ASTMH Annual Meeting 2023
blog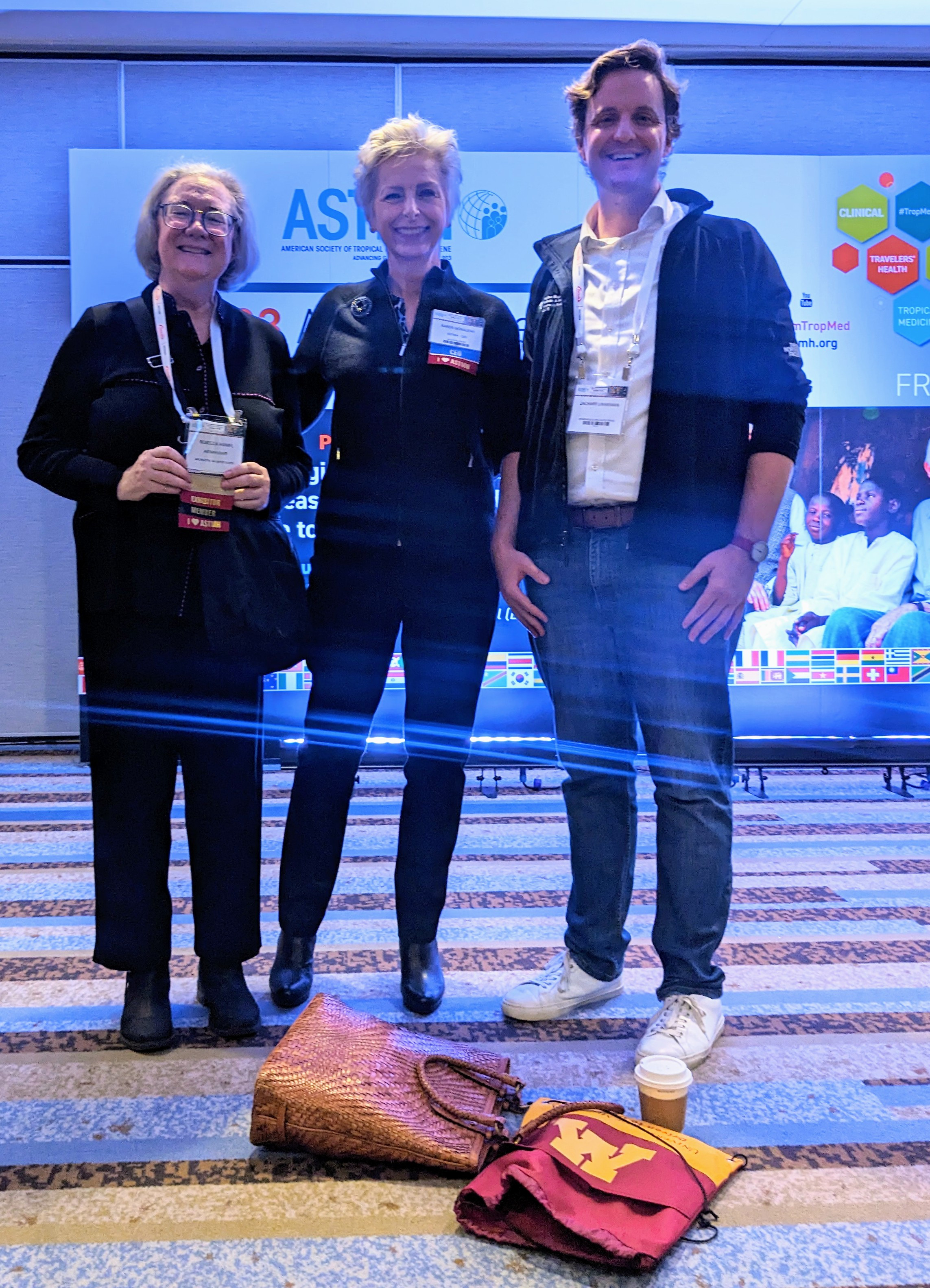 Photo: Image by: Zach Linneman
10.25.23
We are global health practitioners used to the turbulence of navigating the unknown. The many conference participants at the 2023 Annual Meeting in Chicago – walking east and west on three different levels of the Hyatt Regency – reminded me of the airport terminal in Johannesburg with its elevated walkways.
This is the overwhelming traffic and discourse of the conference with 13 simultaneous sessions and 4,300 participants from 130 countries. I came to take in the incredible depot of malaria knowledge (almost by osmosis!) and to locate the smaller number of nutrition lectures related to child growth. And, the ASTMH - Benjamin H. Kean Travel Fellowship in Tropical Medicine will allow me to go to Uganda in service of this work in January.
I would bet my $3 train ticket back to O'Hare and to my home institution of the University of Minnesota that you have heard about the promise of the "gut microbiome" in tropical medicine. But, I would also challenge you to name three FDA-approved interventions based strictly on fecal microbiota. (Hint: There are only two.) The field of the microbiome is developing, and there are an estimated 4,644 bacterial species carrying about 170 million genes in the gut microbiome (!!!). Do you feel lost trying to orient yourself to that crowd of bacteria shuttling back and forth, in-and-out of our digestive tract?
But, our community has researchers, clinicians, and field workers navigating this overwhelming new area where microbiology meets growth physiology. This is poor gut health or "environmental enteric dysfunction." In other words, illness that affects the growth of children who also get sick.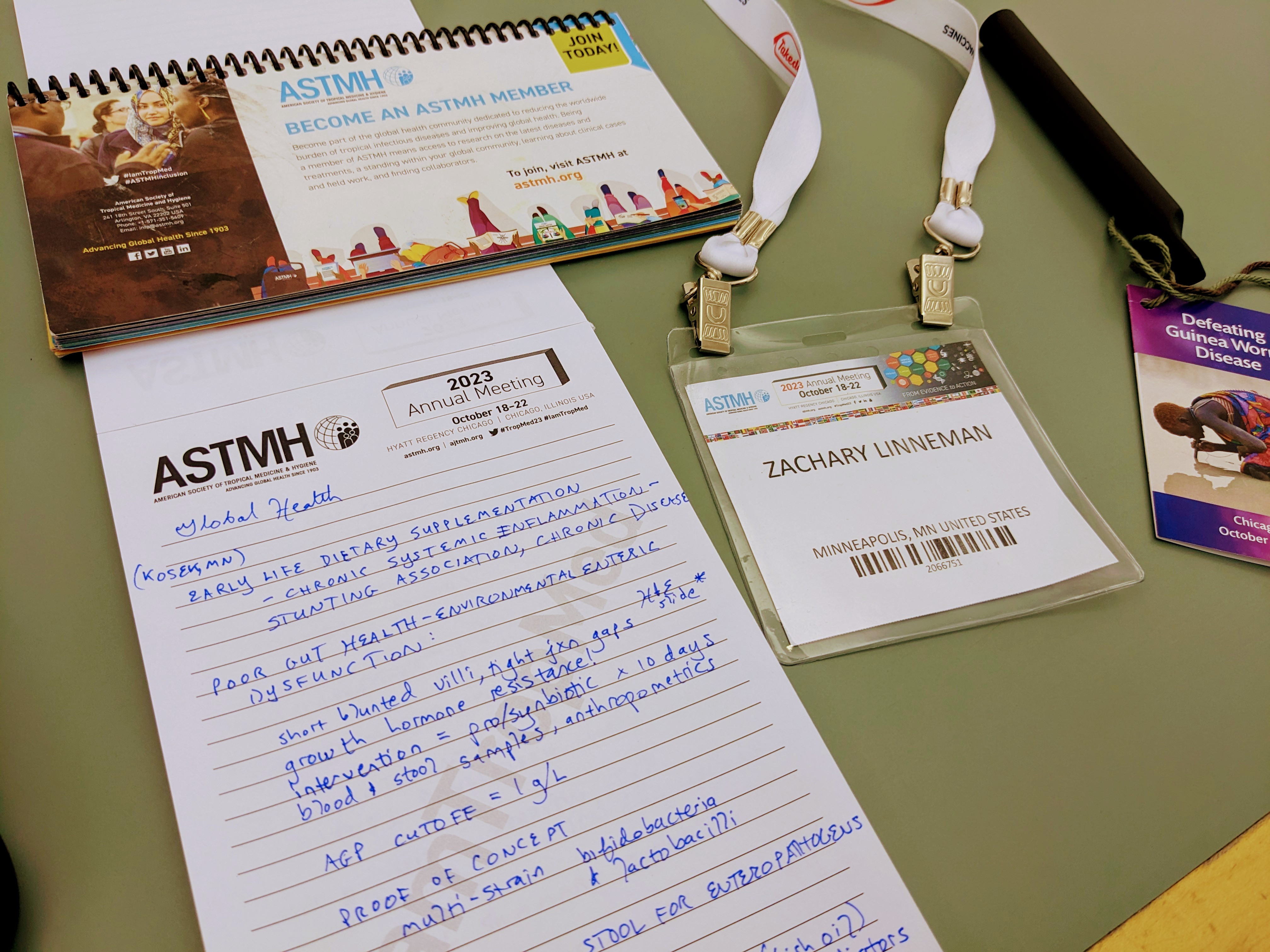 Notes from a first-timer at the ASTMH conference
Dr. Mary Otiti spoke and explained a proof of concept using multiple strains of Bifidobacteria (bacteria that ferment the oligosaccharides in breast milk) and Lactobacilli (bacteria that thrive off milk sugar and likely crowd out pathogens). This work, Modulating the early-life gut microbiota using pro-, pre-, and synbiotics to improve gut health, child development, and growth, simply suggests that the intervention "may build resilience of the developing gut microbiota against environmental insults." If you read this well-written paper, you will find both physiologic rationale and sound evidence for microbiome-directed therapies for gut health. Now, I have an idea of where we are headed on the path to help children grow.

Around the same time, my senior colleagues including Dr. Beth Thielen, Dr. Nadia Sam-Agudu, and Dr. Elizabeth Gulleen from University of Minnesota presented on the "know-do gap" (in another terminal of the global health "airport") in keeping with the theme of this conference "from evidence to action." I have previously written on health equity and the tremendous amount of work that it takes to get from discovery to impact in the lives of children and mothers in a reflection piece on the Nobel Prize in Physiology or Medicine – the second-ever which was awarded for the illumination of the life cycle of malaria. But, the job 120 years later is not yet finished, as my ASTMH souvenir coffee mug states in Latin: malaria delenda est (malaria [still] must be destroyed.)