ASTMH Annual Meeting 2023
blog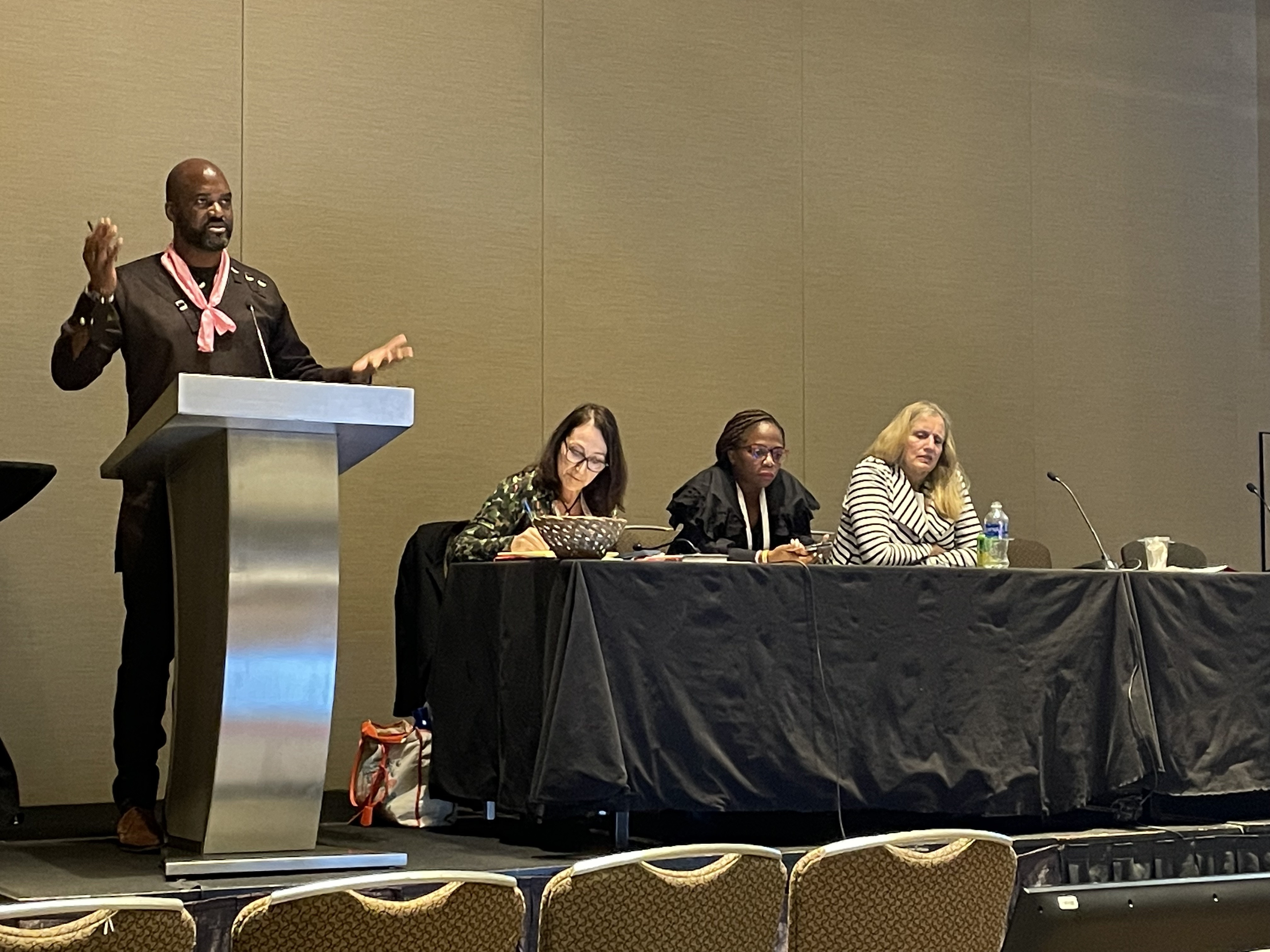 Photo: Matthew Davis
Global Health
10.21.23
Researchers from Africa, Latin America and the United States gathered at #TropMed23 Friday to discuss ongoing work to create a more balanced relationship in which scientists, research institutions and communities in low- and middle-income countries have an equal role in all aspects of global health research.
Sometimes called "decolonizing global health," the goal of the symposium was to discuss concepts and practices that can inspire participants to rebalance power dynamics that are a lingering vestige of the colonial era.
"We recognize the legacy of colonization, power and inequity in global health," said Maria Elena Bottazzi, PhD, Senior Associate Dean of the National School of Tropical Medicine at Baylor University, who was born in Italy and raised in Honduras. "We need to be active and proactive actors to deconstruct the legacy of colonialism and advance a more collaborative, inclusive and equitable vision of the global health community."
Olivia Ngou, MPH, founder of public health advocacy organization Impact Santé Afrique (ISA), said a key component of decolonization involves elevating voices in local communities. She said that people living in areas suffering the greatest impact of infectious diseases are poorly represented in global health research and implementation programs. She noted that in the fight against malaria, for example, insufficient attention to community engagement has been an impediment to implementing key interventions.
"The malaria elimination agenda is more driven by donors than the affected communities," she said.
Elizabeth Bukusi, PhD, MPH, who holds research positions with both the Kenya Medical Research Institute (KEMRI) and the University of Washington, noted one irony of the discussion of decolonizing global health: It's "primarily taking place in the Global North," she said, and people in the Global South have not been sufficiently engaged.
She acknowledged that a meaningful effort to decolonize global health inevitably will create tension because it will affect research priorities, funding and governance. But Bukusi said that by doing so, "We will be able to undo some of the damage that has been done."
Prof. Yap Boum, PhD, Executive Director of the Institute Pasteur de Bangui in the Central African Republic, noted lingering inequities that include the lack of African researchers as first and last authors on infectious disease research studies, grants to African scientists that are much more restrictive regarding what can be spent to improve laboratory facilities (something known as "indirect costs"), and a lack of journal articles published in languages other than English, which he said adds to a bias toward supporting work in anglophone African countries.
He pointed to a recent effort to develop a checklist that researchers and sponsors can use to assess whether they are contributing to broader efforts to develop more balanced global health collaborations. Boum also encouraged greater involvement with a new project that is using artificial intelligence (AI) as part of a digital platform called globalhealthvillage.org that matches researchers with collaborators, mentors, funders and training opportunities.
Virginia Rowthorn, JD, Executive Director of the Center for Global Education Initiatives at the University of Maryland, Baltimore, said everyone can benefit from a greater focus on "reciprocal innovation and learning." For example, she said that improving health equity and outcomes through community health workers was an approach originally developed in low- and middle-income countries that is now informing programs in high-income countries.
###