ASTMH Annual Meeting 2023
blog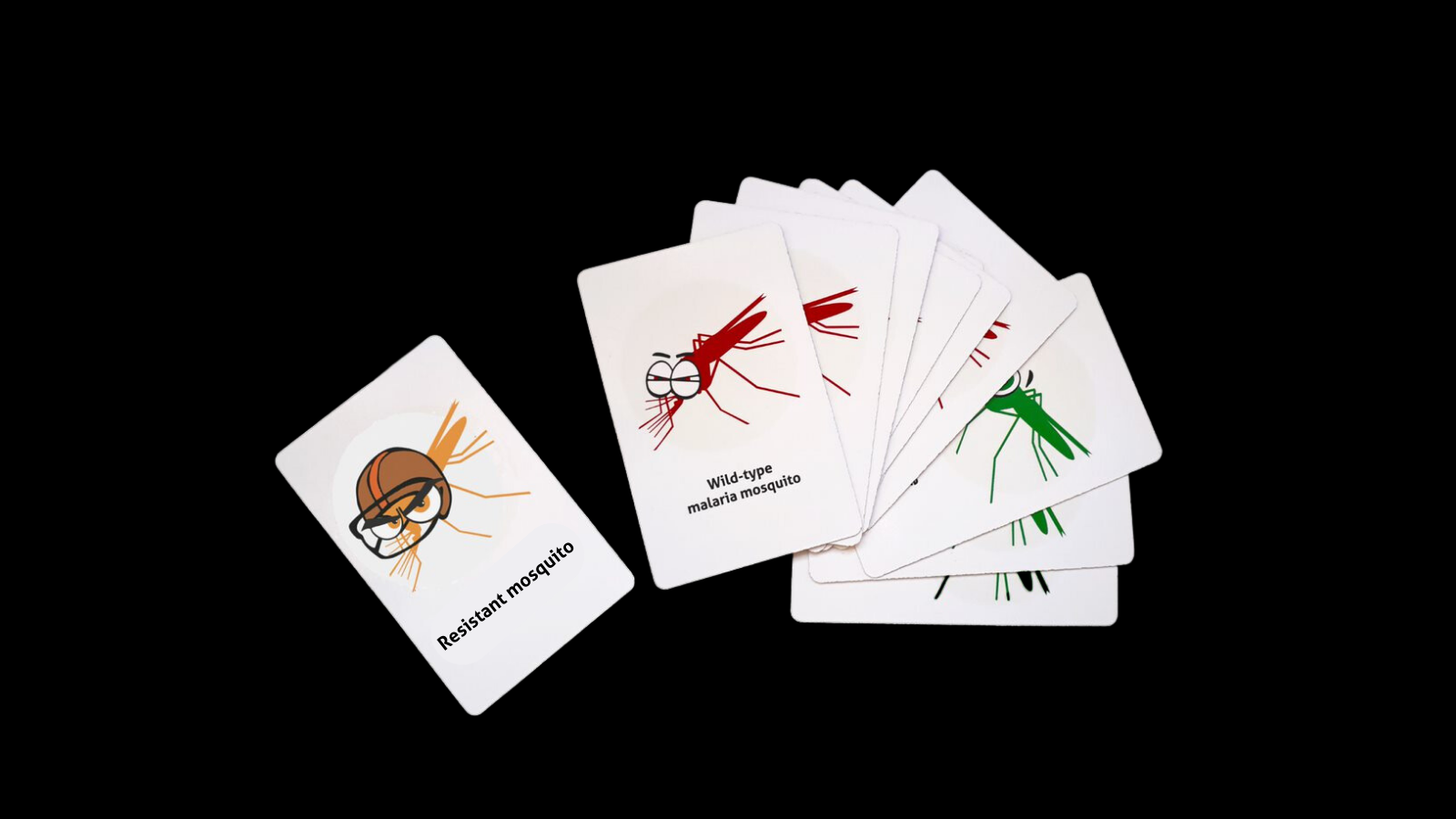 At Target Malaria, we investigate how to reduce malaria transmission. We're working to understand how a technology called gene drive, which genetically modifies mosquito DNA, may help mitigate transmission to humans.

In our communications team working across Burkina Faso, Ghana, Uganda and the UK, we are exploring different, creative ways to explain the technology and its progress to the general public. By continually expanding our toolkit of science communications tools and embracing innovative approaches, we hope to bridge the gap between scientific advancements and the general public, in particular communities most affected by malaria, fostering understanding and support for our mission to combat malaria.
Exploring gene drive through sound & music
In 2018, the Target Malaria team at Imperial College London published a landmark paper in Nature Biotechnology. The study demonstrated how gene drive mosquitoes successfully suppressed a population of wild-type malaria mosquitoes, marking a significant milestone for gene drive technology as a tool for malaria elimination.
Last year, our communications team collaborated with Jamie Perera, a London-based sound artist and composer specialising in sonification – an artistic practice that represents objects through sound. Jamie transformed data from our gene drive cage trials into a piece called "Swarm". We were delighted to showcase this sonification in-person at the Great Exhibition Road Festival in London, where visitors could listen to it under a mosquito net, learning how gene drive mosquitoes could reduce populations of malaria mosquitoes. This piece won in 2023 the "Disruptive Communication" bronze award by the Digital Communication Awards.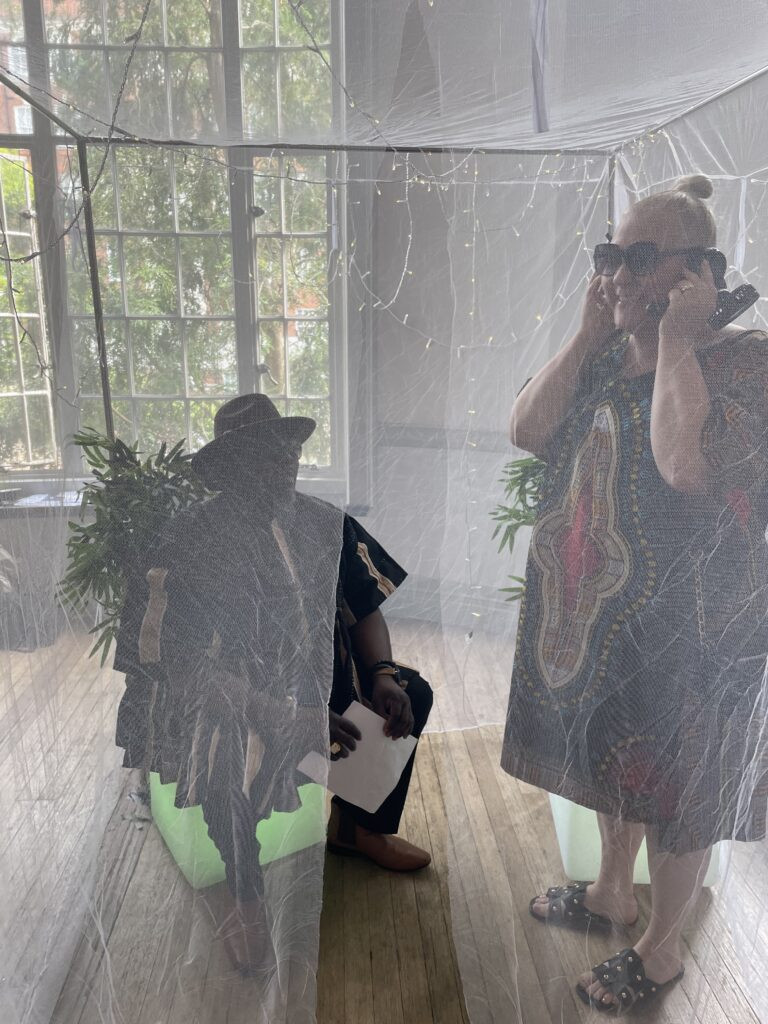 Visitors listen to the sonification under a mosquito net at the Great Exhibition Road Festival in 2023

Listen to Jamie Perera's "Swarm" – A sonification of the 2016 cage trials by Imperial College London here.
Listen to this Imperial College podcast episode featuring a discussion between Dr. Federica Bernardini, Target Malaria and Jamie Perera on the sonification here.
Theatre
Communicating with communities involves prioritising the appropriate methods and channels, and in Burkina Faso, Target Malaria uses theatre as a tool for engagement. Our team collaborates with a theatre company to develop scripts, which are then performed in communities Target Malaria engages with.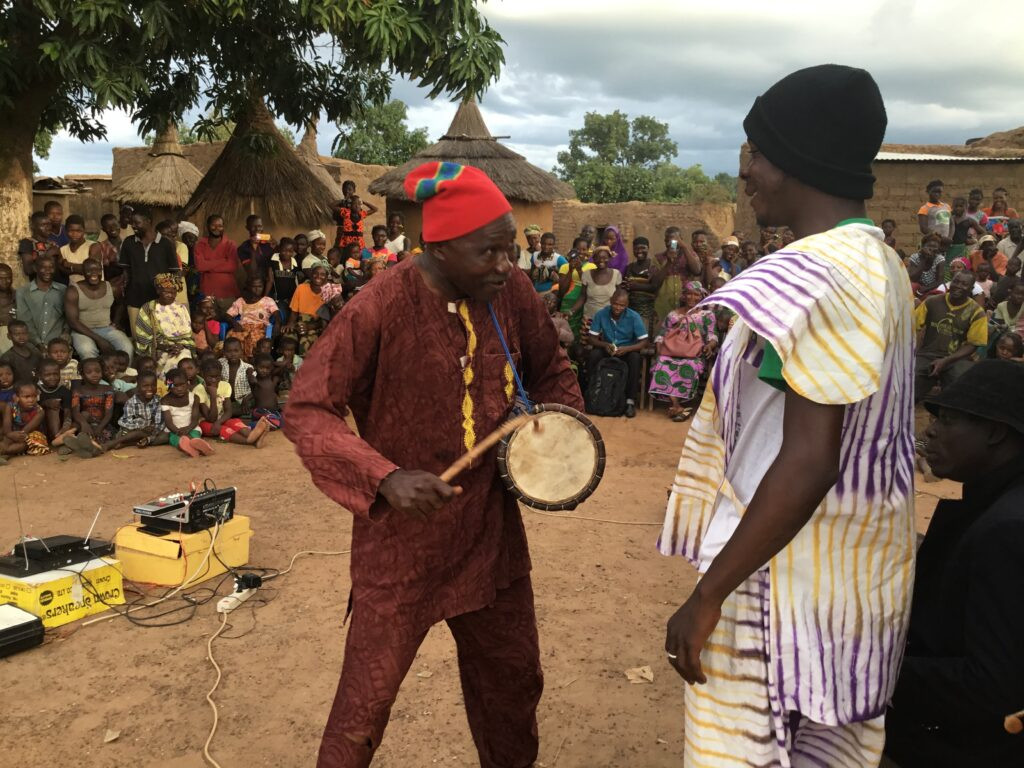 Theatre troupe performing in Souroukoudinguan, one of the communities Target Malaria engages with
These theatre performances effectively convey our engagement with stakeholders and the ongoing dialogue with Target Malaria in a way that respects and celebrates the customs of the communities involved. These performances take place in the communities where Target Malaria works, and the scripts are developed in collaboration between Target Malaria and the theatre company. Science is explained in jargon-free terms, using concrete examples from daily life, and the plays are performed in the local language spoken by community members.
Science communication through a card game
Dr. Ace North and Dr. Katie Willis of Target Malaria's modelling team approached our communications team with an innovative idea for a tool: a card game that explains how gene drive works. Together, we developed "Mozzie Drive," which features playing cards of gene drive mosquitoes, wild-type malaria mosquitoes and resistant mosquitoes. Each round of the game consists of mosquito migrations, mating and gene drive releases, with the first player to discard all their mosquitoes winning the game. This approach has proven to be a creative and engaging way to explain the technology at events such as Imperial College's Great Exhibition Road Festival in London in 2022 and 2023. Participants in PAMCA's Gene Drive Short Course and Gene Drive Foundation Course have also received copies of the game.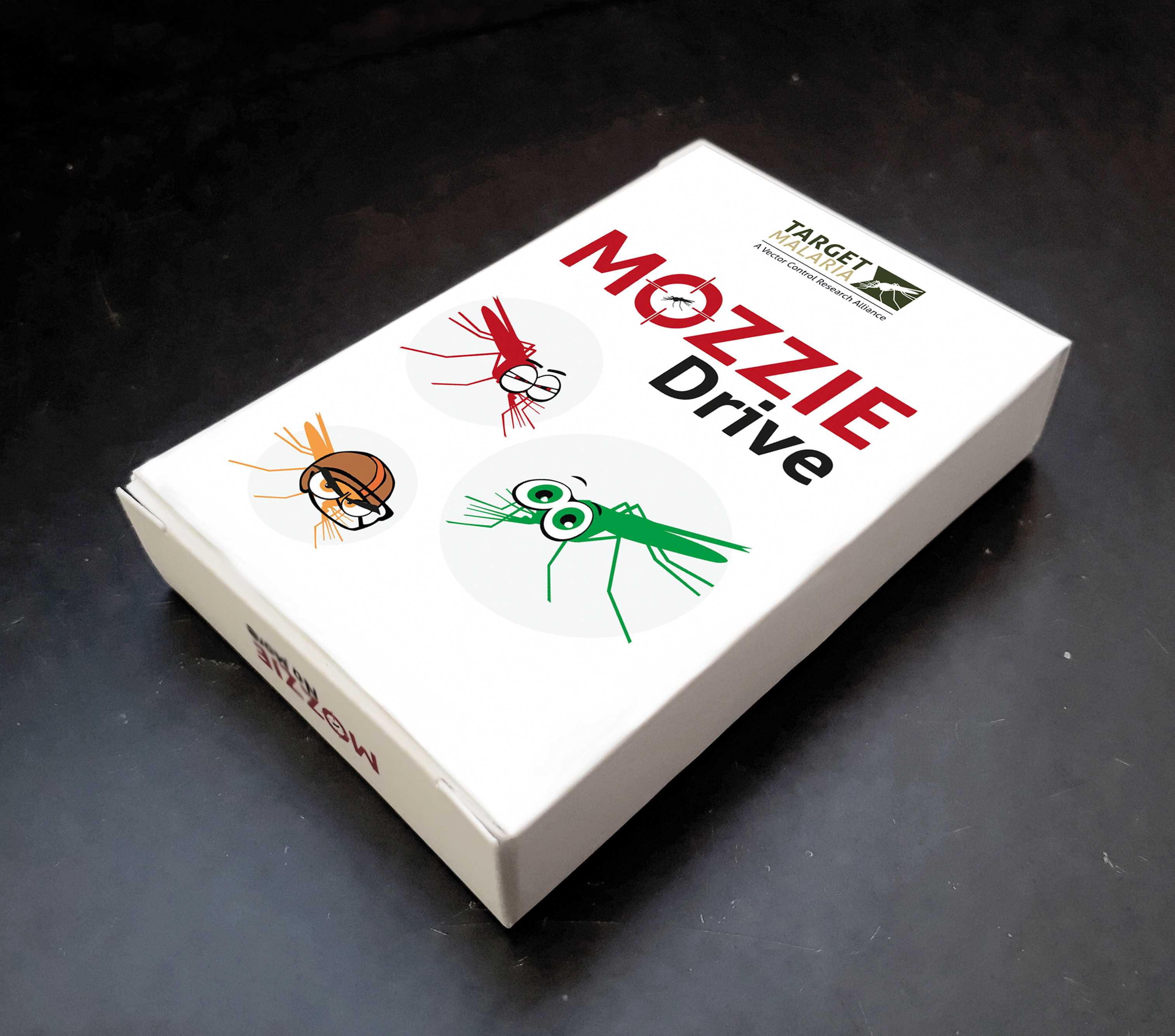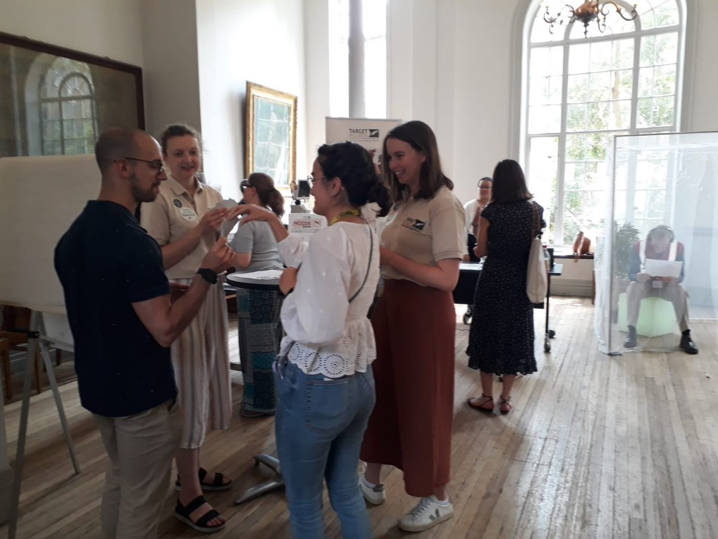 Target Malaria team members play Mozzie Drive with visitors at the Great Exhibition Road Festival
Stakeholder engagement animation videos
Connecting and building trust with the communities we work in is foundational to our work. In collaboration with Ryan Carter Images and Emerging Ag, Target Malaria has developed an animation video series that explains our strategy and relationship with various stakeholders, including local communities, which is an essential aspect of our responsible research approach. These videos cover our approach to stakeholder engagement, how communities make informed decisions about our work and Target Malaria's community agreement model.
Target Malaria | Our approach to Stakeholder Engagement (YouTube)
Microprograms
In Burkina Faso, Ghana and Uganda, we have found microprograms to be a valuable communication tool to inform rural communities about our work. These programs are broadcast through various means, including hand-held megaphones, loudspeakers from community centers and radio stations. Microprograms consist of recorded or live audio segments, shared via broadcasting systems to reach stakeholders in small village settings. They serve as a modern version of the traditional town crier or gong-gong beater, making important announcements to the community.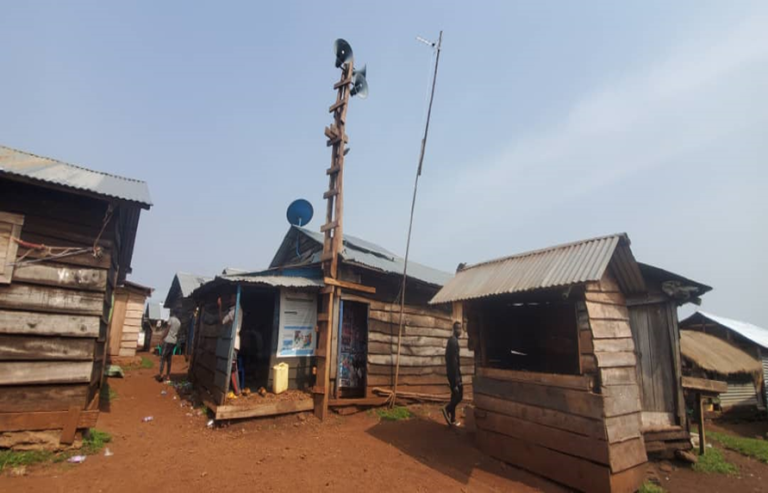 Photos of mounted megaphones in Uganda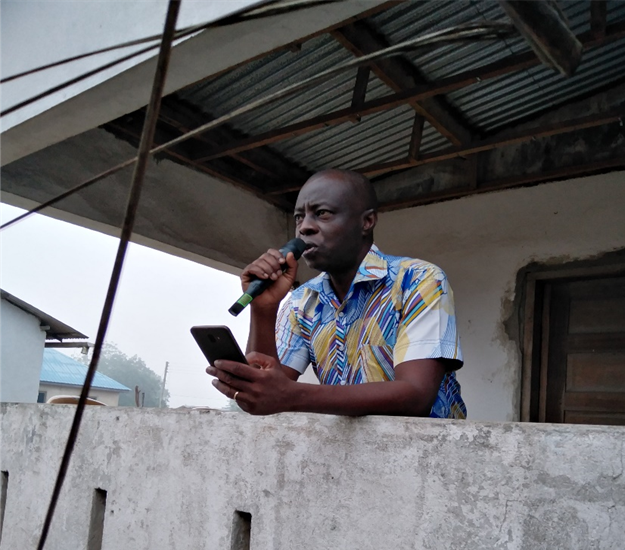 Divine Dzokoto, Target Malaria Ghana Communications Officer, reading into a microphone which is broadcast into the community.