ASTMH Annual Meeting 2023
blog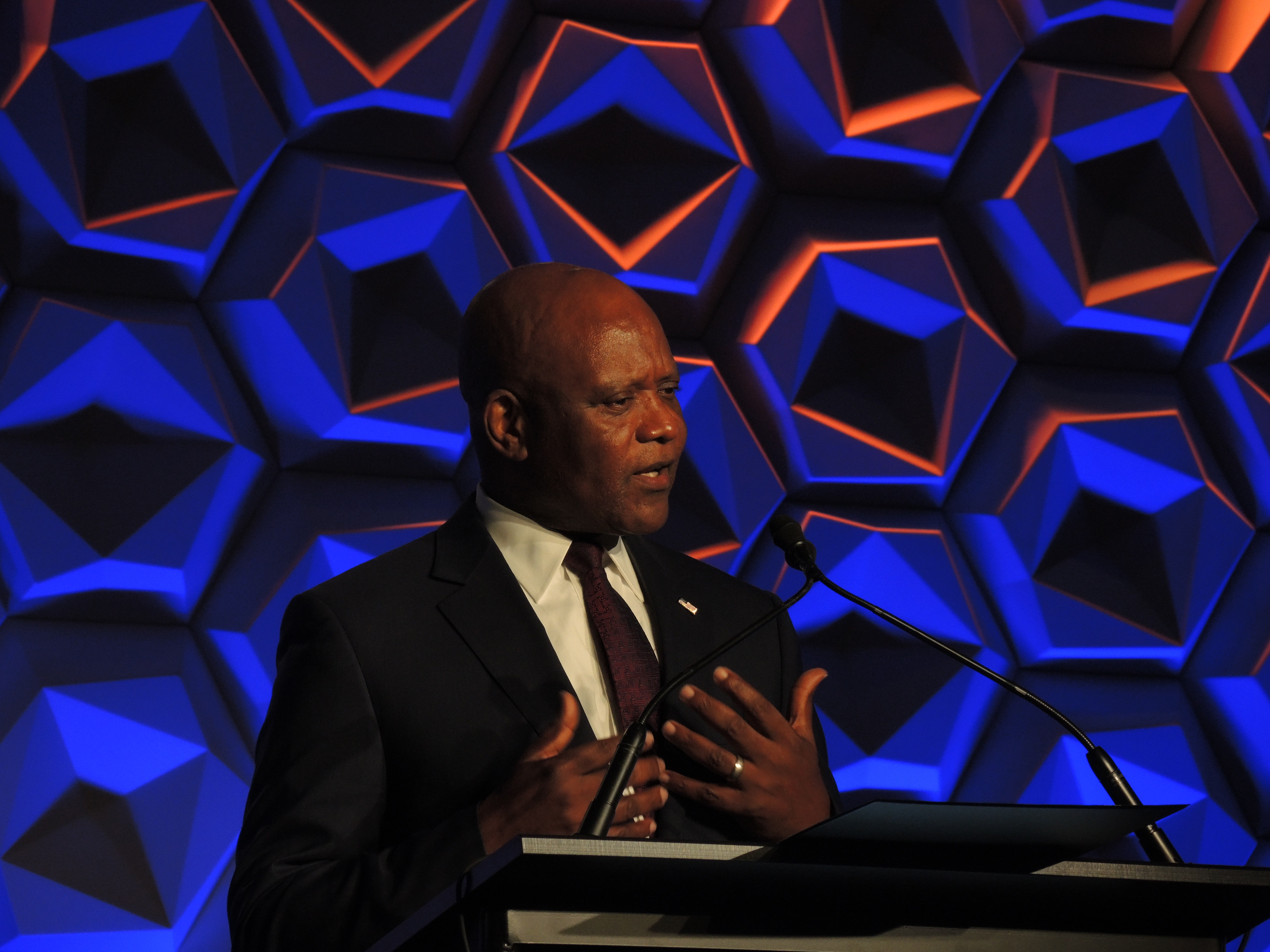 Photo: Image By Misia Lerska
10.18.23
The devastating pandemics of the 21st century — HIV/AIDS and COVID-19 — provide an abundance of lessons that can prepare the world for the next global health emergency, mainly by providing a pathway to a more equitable response, said John Nkengasong, PhD, who led Africa's COVID-19 response and has recently assumed a major global health role in the U.S. government. He reflected on his experience on the frontlines of both pandemics in a keynote speech Wednesday at the launch of 2023 ASTMH Annual Meeting.
Nkengasong is the former head of the Africa Centers for Disease Control and Prevention. He now leads the new U.S. Bureau of Global Heath Security and Diplomacy, where he is Global AIDS Coordinator and Special Representative for Health Diplomacy with the President's Emergency Plan for AIDS Relief (PEPFAR).
He used his address to explore what he said are the "five P's" of managing pandemics and improving global health security: politics, population, policy, partnership and last but certainly not least, the pathogen at the root of the crisis.
Politics: "Political leadership matters."
Nkengasong said that scientists can publish all they want, and new drugs and vaccines can be developed, "but without good politics, we have no way of carrying it forward."
He said that for HIV/AIDS, the decisive breakthrough that saved millions of lives in Africa — where the pandemic was still a major killer long after deaths had dramatically dropped in wealthy countries — was political, not scientific. He said it was the move in the early 2000s to create the Global Fund and shortly thereafter, PEPFAR, both which were instrumental in providing access to antiretroviral drugs.
Nkengasong showed a photo of former U.S. President George W. Bush, who led the push for PEPFAR, holding a healthy baby who was born without HIV because his HIV+ mother had access to treatment. The picture, he said, "shows the power of good politics."
For COVID-19, Nkengasong noted his work early in the pandemic when he and other health leaders went to the chairperson of the African Union and urged an immediate convening of health ministers from across the continent. They also went to heads of state to urge immediate action to institute lockdowns to slow the spread of the virus.
He said these political decisions allowed the continent to develop COVID-19 laboratory capabilities and institute lockdowns — and ultimately defy widespread predictions that African countries would suffer particularly high rates of infections and deaths.
Policies: "Bad policies obstruct interventions."
He lamented policies in African countries that are making it difficult for various high-risk groups to gain access to HIV diagnosis and treatment. He pointed to a recent study that found especially high rates of HIV among men who have sex with men in countries that have more punitive policies toward homosexuality. The said policies that require adolescents to secure parental consent to receive HIV services are also a barrier.
"We are not going to win this war by leaving these populations behind," he said.
Partnerships: "Respectful partnerships facilitate courageous discussions."
He recalled meeting with the president of Tanzania to both praise the country's progress in regard to HIV/AIDS, while also gently but firmly urging action to address the lack of attention to HIV risks in girls and young women. And the president responded with action.
For COVID-19, he said in Africa, a partnership with private sector leaders produced the Africa Medical Supplies Platform that was instrumental in helping countries procure medical equipment and basic supplies. Also, while the international COVAX partnership for procuring COVID-19 vaccines has been criticized by some as a failure, Nkengasong said that despite its shortcomings, it eventually delivered a large number of vaccine doses to African countries.
Population: "We have to know the population to know where to target the resources."
Nkengasong said for HIV/AIDS, it's clear that even in countries that are making progress, there are alarming gaps in key populations, notably 15–24-year-olds. "If rates of new infections in this group do not go down, then all of our progress is compromised," he said. Similarly, he said for COVID-19, a failure to understand vaccine acceptance among different populations is threatening their impact.
Pathogens: "The more we continue to understand the pathogenesis (of the disease) … the more interventions can be developed."
Nkengasong noted that with HIV, insights from research probing the discrete mechanisms of viral replication enabled the development of potent drugs for keeping the virus in check. Similarly, he noted how advances in basic research and vaccine science led to the development of COVID-19 vaccines in record time.
Nkengasong said he's optimistic that leaders globally will engage the lessons of the five P's to ensure we are ready for the next pandemic — most notably by creating frameworks for a more equitable response. He pointed to the Pandemic Fund launched by the World Bank and the World Health Organization — which has received $1.9 billion in pledges so far — as an important step toward supporting capacities in low- and middle-income countries.
"This is the kind of spirt of collaboration and coordination …. that allowed us to fight HIV/AIDS," he said. "This is the kind of fund we need to … grow to the level of the Global Fund."