ASTMH Annual Meeting 2023
blog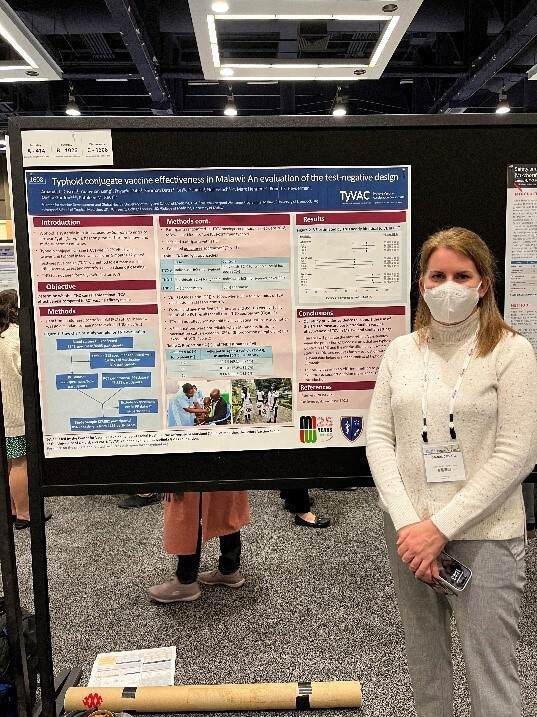 Photo: Amanda Driscoll presenting an evaluation of the test-negative design. Results showed that test-negative design is an efficient method to measure effectiveness of typhoid conjugate vaccines.
11.07.22
Taking on Typhoid
Typhoid fever, caused by Salmonella enterica serovar Typhi (S. Typhi), results in a significant burden of disease, including morbidity, mortality, and financial cost, in low- and middle-income countries. However, with typhoid conjugate vaccine (TCV) joining the fight to take on typhoid, we now have a promising key piece of the integrated package of solutions.
Since 2019, we've watched as immunization programs in Pakistan, Liberia, Zimbabwe, Samoa and Nepal introduced TCV, and more are planned. However, this is not the end of the road. While many studies to determine the efficacy of TCV have been published, it's critical that we understand the effectiveness of the vaccine in 'real-world' conditions through post-introduction vaccine evaluations.
Study overview
With this need in mind, our team set out to identify a reliable, valid and efficient method of evaluating the post-introductive vaccine effectiveness of typhoid conjugate vaccine. One such method is the test-negative design, which has previously been used to measure the effectiveness of influenza, rotavirus, COVID-19, and other vaccines but never for TCV. This method is advantageous for low-and middle-income countries (LMICs) because it's efficient, convenient and relatively low-cost. However, before this method can be widely used and relied upon for TCV, it needs to be evaluated within the context of its proposed use. Thus, our study was conceptualized to determine whether test-negative design could reliably estimate TCV effectiveness when compared to a previously published randomized controlled trial (RCT - aka "the gold standard") of Vi polysaccharide typhoid conjugate vaccine (Vi-TCV) in Blantyre, Malawi. We also sought to verify that Vi-TCV has no effect on non-typhoid fever, and to assess the impact of case-control matching, vaccine miscalculation and the sensitivity of blood culture to detect typhoid fever on vaccine efficacy estimation in a test-negative design.
A total of 27,882 Malawian children ages nine months to 12 years were included in the three-year study. over three years.
The results – and why they matter
We found that vaccine efficacy against S. Typhi in the randomized controlled trial was 80.4%. We also found that TCV did not affect the risk of non-typhoid fever.
These findings validate the core assumption of the Test-Negative Design approach for the estimation of typhoid conjugate vaccine efficacy and confirm the accuracy and precision of its estimates compared to randomized control trials. It's an exciting conclusion to the study because not only does it point to a suitable design for post-introduction vaccine efficacy evaluations for typhoid, but one that meets the needs of the local communities and contexts. Opportunities to share our findings with and learn from other global health professionals, like this week at ASTMH, are paramount to moving the needle for a world free of vaccine-preventable diseases forward.