ASTMH Annual Meeting 2023
blog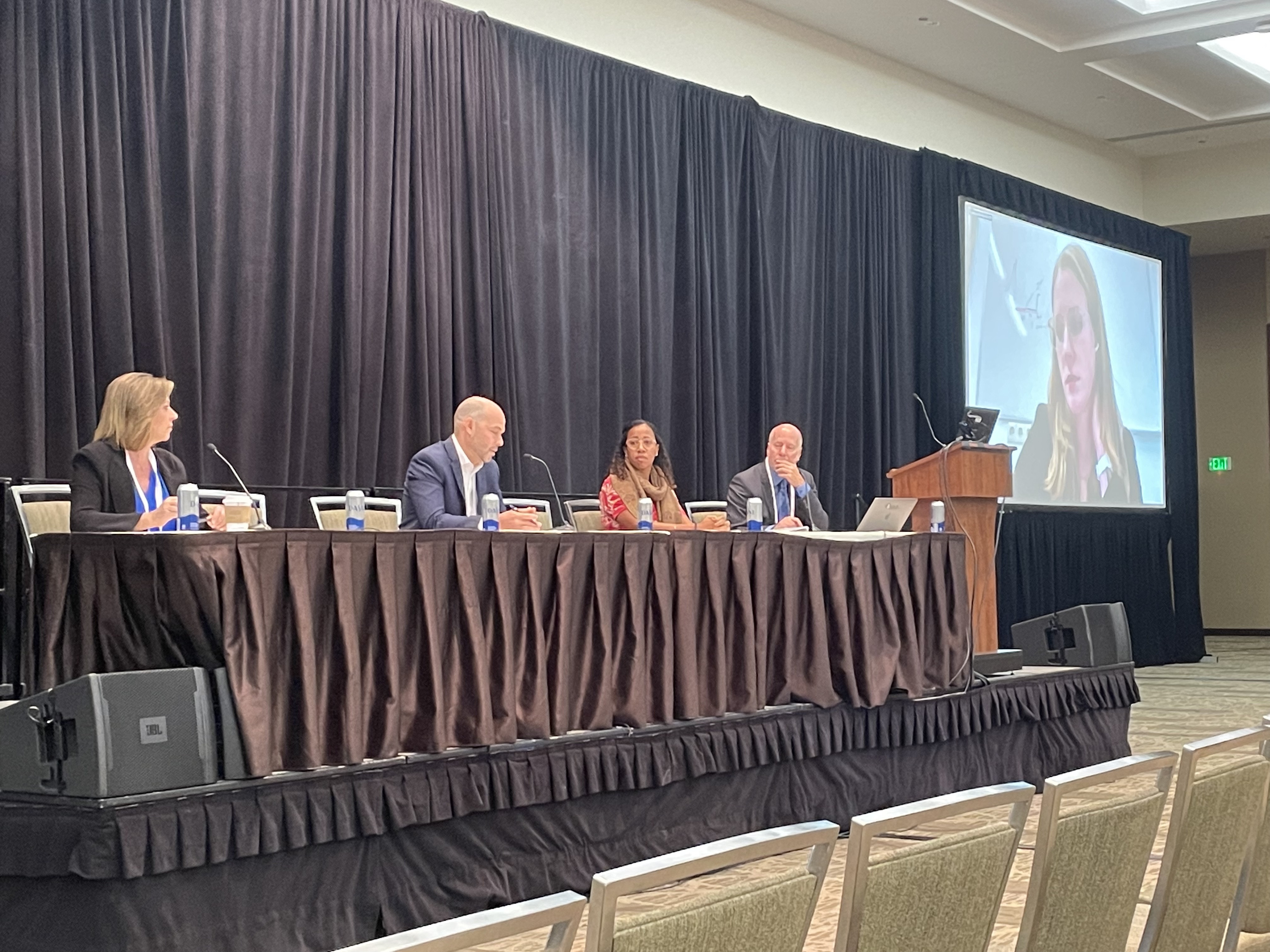 Photo: Predicting the next pandemic: From left, Jonna Mazet, DVM, PhD, of the University of California, Davis; Kevin Olival, PhD, EcoHealth Alliance; ASTMH President Daniel Bausch, MD, MPH&TM; Nabila Youssouf, PhD, Bostwana Harvard AIDS Institute Partnership; and appearing from Geneva, Brooke Nichols, PhD, MSc, Foundation for Innovative New Diagnostics (FIND
11.02.22
The next major global health emergency could be caused by a dangerous strain of influenza or a novel pathogen like the one linked to a recent cluster of cases in China that is from the same family of viruses as measles. It also could be caused by a manageable illness that runs rampant due to misinformation and public mistrust of science.
These predictions emerged from a panel of experts Wednesday at #TropMed22 who were brought together to discuss pandemic surveillance and pathogen prediction.
A new strain of influenza that escapes existing immune protections was cited as the most likely source of the "next pandemic." But Kevin Olival, PhD, an ecologist and evolutionary biologist with EcoHealth Alliance, pointed to potential new threats from novel types of paramyxoviruses, a category of pathogens that also includes measles and mumps.
He noted that in the last two decades there have been growing concerns over a subcategory of paramyxoviruses known as henipaviruses that circulate in bats and rodents. It includes one called Nipah virus that caused an outbreak in Malaysia and Singapore in 1999 that resulted in about 100 deaths.
Olival pointed to a report from this summer describing a small cluster of 35 human infections in China with a newly identified henipavirus called the Langya virus, which is believed to have spilled over from shrews. The report noted the symptoms were relatively manageable—fever and fatigue—but Olival said it was additional evidence that these viruses are moving from animals to humans. He also cited research published last year documenting novel henipaviruses in shrews in Korea that had the potential to infect humans.
Nabila Youssouf, PhD, with the Botswana Harvard AIDS Institute Partnership, took a different tack and warned that "the next pandemic already has started, and it is scientific miscommunication." She said there are likely a number of manageable diseases that risk causing significant harm due to growing mistrust of science. Youssouf, who is from Martinique, said that lingering distrust on the island caused by the French government's use of cancer-causing pesticides there more than 70 years ago made people reluctant to use COVID-19 vaccines.
"We saw people refusing to get vaccinated because they did not want to engage with any public health message from the French government due to something that happened 70 years ago," she said.
Meanwhile, the panelists also discussed tools and strategies that can greatly improve global efforts to detect emerging pandemic threats.
ASTMH President Daniel Bausch, MD, MPH&TM, FASTMH, reflected on his experience during the West African Ebola outbreak that taught him about the pitfalls of developing capacities to detect relatively rare pathogens. He said that after the outbreak subsided, laboratory testing equipment for diagnosing Ebola "was collecting dust" because it was too costly and time consuming for clinics to test patients for a disease that was no longer their main concern.
"We need something like a rapid test that picks up malaria, dengue, (along with) something we only see once in a while," he said.
Jonna Mazet, DVM, PhD, of the University of California, Davis, who is director of the PREDICT viral emergence project, said detecting and responding to new outbreaks demands an intensive effort to address the profoundly poor links between health care providers and public health systems. She said during the COVID-19 pandemic, "in Silicon Valley, the biggest tech hub in the United States, we were literally faxing medical records from healthcare providers to the public health system because there were no electronic linkages."
Brooke Nichols, PhD, MSc, an infectious disease modeler with the Foundation for Innovative New Diagnostics (FIND), said that a lack of data on viruses is impairing efforts to use predictive modeling to identify potential pandemic threats. She said that in general, viruses have not received as much attention as bacterial pathogens, and most data on viruses focuses on the relatively small number that make us sick. Nichols said that collecting detailed data on the thousands of viruses circulating in animals is essential for developing models that can predict which ones are the greatest potential threats to people.
"Models are only as good as the data available, and there is absolutely a vacuum of data around viruses," she said.