ASTMH Annual Meeting 2023
blog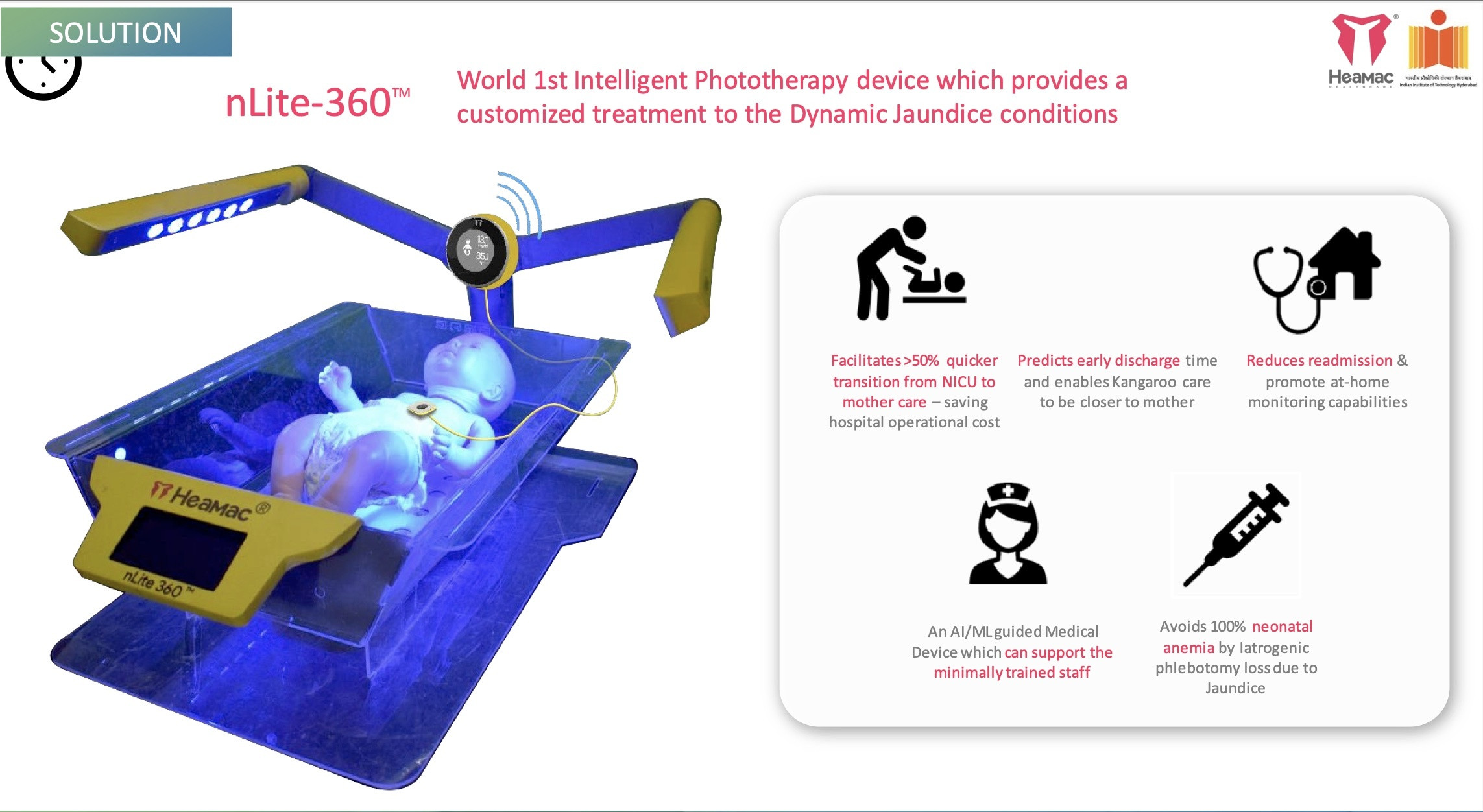 Photo: Pitch Competition Winner: Portable Phototherapy Device For Treating Jaundice
11.01.22
A portable, battery-operated device that provides carefully-calibrated light therapy to treat jaundice in babies was selected Tuesday as the winner of the TropMed2022 Innovations Pitch Competition.
The team from Hyberabad, India, led by Prasad Muddam, developed the product, called the nLite360, to replace the hodge-podge of equipment used in rural hospitals to treat newborns with jaundice. Muddam said every year 15 million newborns in India suffer from jaundice and 10 million lack access to light therapy—often called phototherapy—that can reduce a potentially toxic build-up of bilirubin in their blood.
The nLite360 is a portable, clear plastic cradle with a special set of lights attached to arms on the side. The operator inputs information on the baby's symptoms and the device then delivers the appropriate level of phototherapy. It's also powered by solar-rechargeable batteries.
As the winner of the Pitch Competition, the nLite360 team will receive a $5,000 prize.
The competition featured five innovations, selected among a large group of candidates, that were assessed by an expert panel that included ASTMH President Daniel Bausch. Additional input was provided by attendees who voted via a mobile app. The goal was to identify affordable new tools that can be implemented in low-resource settings. All the finalists received at least $500.
Malaria Lab the Size of a Toaster Oven
Second prize, and $2500, was awarded to Chloe Lee of Seoul, Korea's Noul Co. Ltd. for a new malaria diagnostic device called miLab, which can be used in rural clinics to provide a detailed diagnosis of malaria infections. It offers a laboratory-quality system that is more sensitive than rapid diagnostic tests (RDTs) and overcomes a growing challenge to RDTs: a genetic variation in malaria parasites that can produce a false negative. The miLab requires placing a patient's blood sample into cartridge that is inserted into a small device about the size of a toaster oven. The test is then fully automated, producing a result in about 15 minutes that includes insights into parasite levels. Lee said it also differentiates between vivax and falciparum parasites.
Detecting Parkinson's in a Patient Drawing
The "audience favorite"—selected solely by voting from attendees—was a new, low-cost tool for diagnosing Parkinson's disease presented by Jay Iyer with the student-run Harvard Global Alliance for Medical Innovation. The test uses machine learning to analyze shapes drawn by patients, looking at the rate of curvature and hand pressure to detect signs of Parkinson's. Iyer cited evidence from tests at Beth Israel Deaconess Medical Center in Boston showing an accuracy rate of over 90 percent. Iyer said the intent is to develop low-cost method for Parkinson's diagnosis in low-income communities and allow interventions with affordable medications like levodopa that helps treat Parkinson's symptoms.
Improving Cancer Diagnosis in Rural Health Clinics
Marvin Daniel from the Uganda Cancer Institute presented a new innovation for diagnosing pancreatic cancer in rural health clinics. It uses conventional ultrasound to detect evidence of potential pancreatic tumors, which is then followed by a blood draw from patients. The blood sample is passed through a microfiltration device that can capture tumor cells. Daniel said the goal is to enable early diagnosis to provide an opportunity for early treatment.
Fighting Hunger with Super Charged Seeds
Finally, a group of high school students from Dhaka, Bangladesh presented a system developed by their start-up, Bacto Crop, to address food security challenges. It uses a growth-promoting bacteria to accelerate seed germination rates and seedling growth. They said it has the potential to allow crop production on lands where farmers are currently challenged by low (and slow) seed germination rates.
###