ASTMH Annual Meeting 2023
blog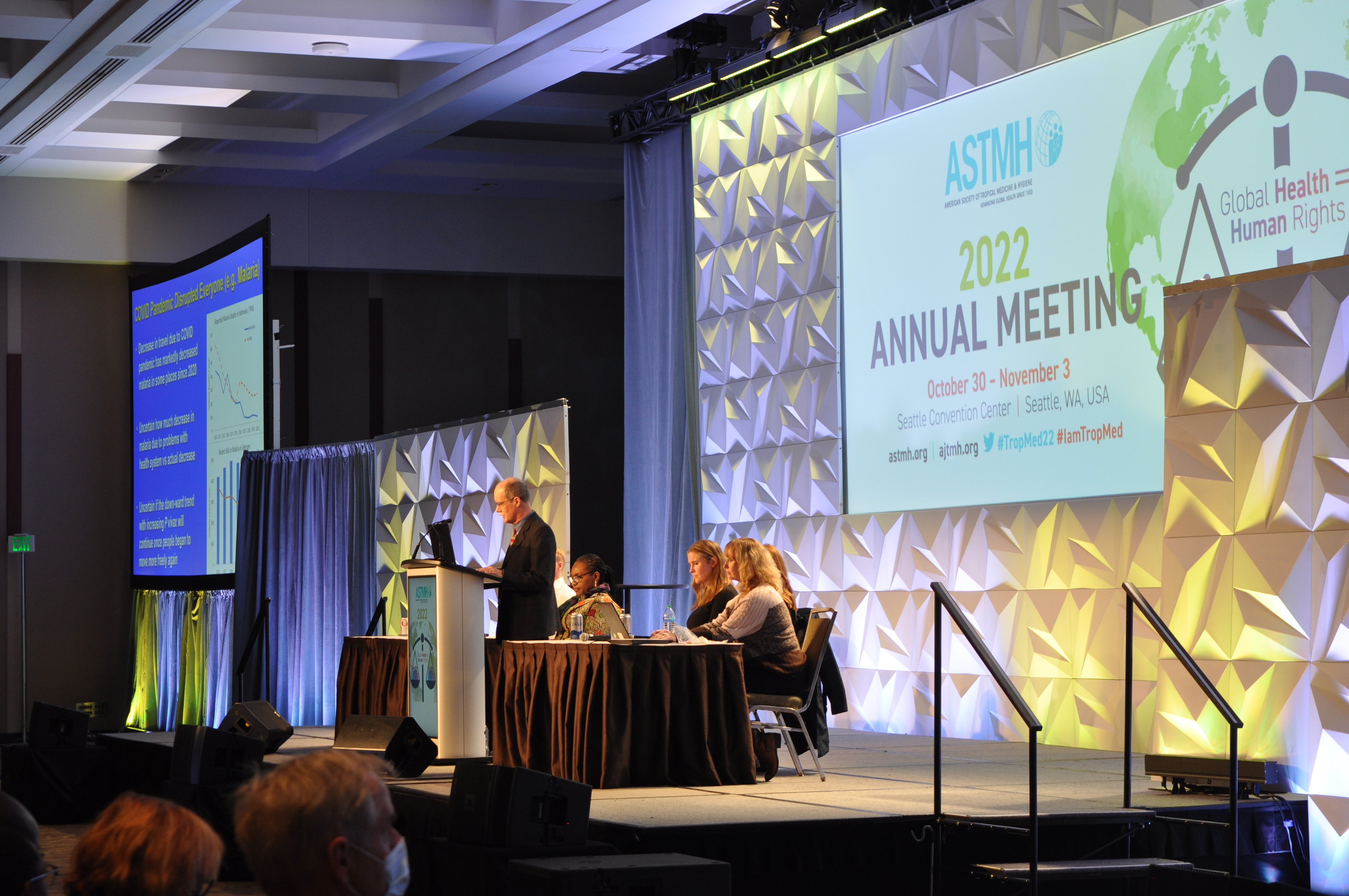 Photo: G. Dennis Shanks, MD, MPH, of the Australian Defence Force Malaria and Infectious Disease Institute, speaking at the Alan Magill Malaria Symposium
11.01.22
Eliminating malaria as a global threat requires battling new risks of spillovers from non-human primates, intensifying the fight against a relapsing form of the disease — despite flaws in existing medicines — and confronting the confounding effects of climate change on the parasite's range.
These were among the key insights Monday from the annual Alan Magill Malaria Symposium at #TropMed22 that has become a focal point for assessing the state of play of one of the most important and difficult undertakings in the history of fighting infectious diseases. The session was created to honor Magill's legacy. The former ASTMH President and Director of Malaria Programs at the Bill & Melinda Gates Foundation never wavered in his conviction that a disease that has plagued humanity for thousands of years could be defeated.
Simian Malaria Opens a New Front
Kimberly Fornace, PhD, of the University of Glasgow, warned that the hard work to subdue malaria now risks being undermined by a failure to focus on malaria strains that circulate in non-human primates. She cited the surprising surge in Southeast Asia of human infections from a malaria parasite called Plasmodium knowlesi, a form of "simian malaria" that was once seen mainly in long-tailed and pig-tailed macaques. Fornace said that while knowlesi malaria was first identified in the 1930s, it was not recognized as a significant human threat until around 2011.
"It's easy to dismiss what is happening to a small population in one part of the world," Fornace said. "But simian malaria is a threat to global malaria elimination."
What's especially worrisome, she said, is that the "spillover" of knowlesi malaria was caused by an "unprecedented level" of damage to forest ecosystems, which is not something that can be addressed by mainstream malaria control measures. Rather, it's part of a broader effort, she said, to find "sustainable ways of managing landscapes that reduce human health risks."
Eliminating Vivax Malaria: Making the Best of 'Problematic' Medications
G. Dennis Shanks, MD, MPH, of the Australian Defence Force Malaria and Infectious Disease Institute, made a case for using existing, if imperfect, medications to intensify the fight against the relapsing form of malaria of caused by the Plasmodium vivax parasite. There are two drugs — primaquine and a newer related medication called tafenoquine — that can both cure a P. vivax infection and eliminate a form of the P. vivax parasite that basically hides in the liver, periodically emerging to cause new bouts of illness.
Shanks acknowledged the key problem with both drugs: They can cause a severe reaction called hemolytic anemia, which damages red blood cells, when given to people who have a genetic variation known as G6PD. The variation is common in people who live in vivax-endemic regions of Asia, and it's challenging to consistently screen patients.
Shanks noted evidence indicated a potential to effectively treat G6PD patients with both drugs by using dosages that may cause a degree of anemia — but not at a level that poses a danger — while still curing their malaria infections.
"These are the only drugs we have that will stop transmission and relapse (of vivax malaria)," he said. "There are low doses of primaquine and a dose of tafenoquine that can be safe. We need to find out what that is."
Climate Change and Malaria: No Easy Answers
Peter Gething, PhD, an epidemiologist at Perth's Curtin University and leader of the Malaria Atlas Project, provided an overview of how changes in temperatures and rainfall patterns caused by climate change could alter malaria risks. But he began with a key caveat: "challenge anyone who says there is a clear answer."
Gething said there is evidence that rising temperatures could allow malaria parasites to move into highland areas of Kenya and Tanzania and cooler regions of Southern Africa where they are not currently common. However, he said predicting how malaria will be affected by changes in rainfall patterns is very challenging. Gething noted that current climate models focus on long-term trends and don't capture variations that can have a big impact on mosquito populations.
"There are places that could become wetter (over the long-term) that could still be facing five- or 10-year periods when they are dryer," he said.
Matching climate trends with malaria risks, Gething said, requires developing detailed near-term forecasts that can be linked to malaria models for specific regions.
Focusing on High Burden, High Impact Countries
Perpetua UhomoibhI, MPH, with Nigeria's National Malaria Elimination Program, focused on the potential to reduce malaria infections and deaths globally by concentrating on the 11 countries that account for about 70 percent of the global burden of disease. Nigeria alone, she said, accounts for about 27 percent of the world's malaria infections and 32 percent of deaths.
For example, she said Nigeria has developed a new malaria data repository and digital tools that have improved implementation and tracking of malaria prophylactic medications and insecticide-treated bed nets. She said these advances have "strengthened domestic ownership of the national malaria programs and clarified the support required" from global funders.