ASTMH Annual Meeting 2023
blog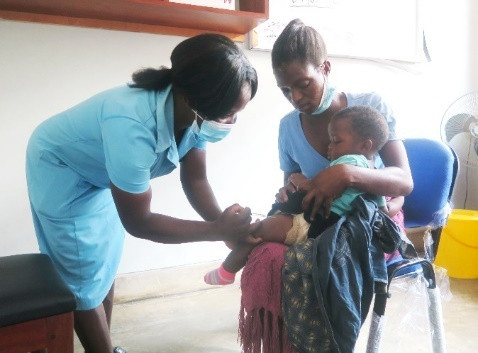 Photo: Child receiving typhoid conjugate vaccine as part of an efficacy study in Blantyre, Malawi.
10.31.22
The typhoid research presented at this year's ASTMH conference highlights the critical research from the past year to prevent the disease and promote health globally.
Typhoid is a global burden, where the greatest incidence is in Asia and Sub-Saharan Africa. A major threat to typhoid elimination is antibiotic resistance, with extensively drug resistant typhoid (XDR) causing resistance to first-line antibiotics. Typhoid conjugate vaccineS (TCVs) offer a promising future for the prevention of typhoid; however, TCVs in combination with water, sanitation, and hygiene (WASH) measures will help to reduce the burden and spread of typhoid in endemic regions. Safe drinking water in addition to equitable vaccine coverage is critical to preventing typhoid.
Researchers presented the newest research on typhoid at the following symposium, scientific presentation and poster sessions:
This year, the Coalition against Typhoid is hosting a symposium titled "Advances in Enteric Fever Diagnostics" on October 31st at 5:15 PM (U.S. Pacific Time). The presentations by Kristen Aiemjoy, Sira Jam Munira, Jyotshna Sapkota and Purvesh Khatri focus on newly researched diagnostic techniques and their potential to overcome the challenge of diagnostics in low-and-middle-income countries. The four presentations feature discussions on the accuracy of new antigens for diagnosis, evaluation of the DDP typhoid rapid diagnostic, access to points of care test and a robust host-response-based signature.


On November 1st at 4:15 PM (U.S. Pacific Time), Farah Qamar is presenting "Field Evaluation of Typhoid conjugate vaccine in a catch-up campaign among children aged 9 months to 15 years in Sindh, Pakistan." This presentation covers how researchers at Aga Khan University in Pakistan conducted a field evaluation to test the effectiveness of the typhoid conjugate vaccine (TCV) during a one-time catch-up campaign. Researchers found TCV to be highly effective; however, 61% of blood culture confirmed S. Typhi cases identified were extensively drug resistant (XDR) typhoid, highlighting the significant burden of antimicrobial resistance in this region. Although the study demonstrated TCV's effectiveness in a campaign setting, it also emphasized the importance of TCVs in combination with water, sanitation and hygiene (WASH).


Additionally, several poster presentations throughout the week feature typhoid research. Topics range from co-infection of typhoid and malaria, impact of COVID-19 on typhoid surveillance, serological response, among many others.
Interested in learning more about typhoid and how we can address it? Visit Take on Typhoid to learn more: https://www.coalitionagainsttyphoid.org/