ASTMH Annual Meeting 2023
blog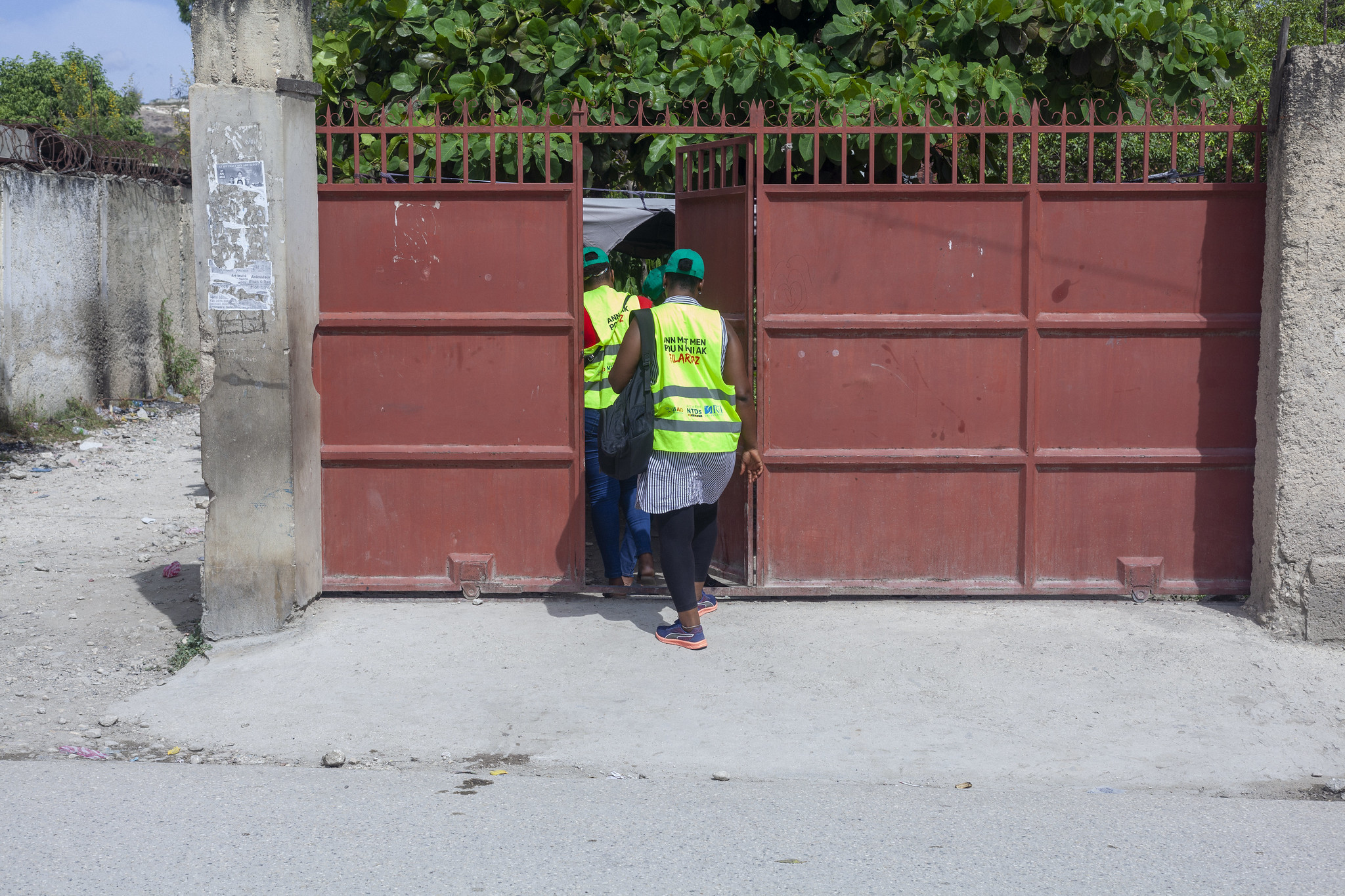 Photo: Community drug distributors face a huge task to disseminate LF medicine, often going door-to-door. Photo credit: RTI International / Emmanuel Riscka Chery
10.31.22
Haiti has been in the news many times in recent years with growing civil unrest, political instability, and relentless natural disasters. However, there's more to Haiti's story. Haiti is making progress towards some key public health goals, including towards the elimination of lymphatic filariasis (LF).
Haiti is one of only four countries in the Americas that is endemic for LF, a mosquito-borne disease, which can lead to disability, pain and stigma. Haiti's Ministry of Health identified the elimination of LF as a top public health priority, and in 2005 began scaling up treatment with the goal of delivering medicine to all people living in LF-endemic areas–the entire country at that time.
While treating everyone in Haiti may seem an overwhelming task, many including government leadership, local and district health officials, partners, and a cadre of volunteer community drug distributors (CDDs) come together to help get the medicine to people all over the country.
After long days in the sun educating community members, disseminating medicine, and keeping written records, CDDs compile their data. These paper-based data then make their way to a centralized database.
Alain Javel spent his early career working in the telecommunications industry in Haiti. When he began supporting efforts to eliminate LF in 2015, Alain noticed the challenges with the data collection process right away. From the time of collection, it would often take months for the data to make it to the government. CDDs collected all data on paper, which was then hand coded into databases, making it difficult to use the data to inform decision-making, such as quickly identifying low coverage zones. These barriers hampered years of efforts and investment to eliminate LF in Haiti.
Alain knew Haiti could improve their data collection efforts and brought in his telecommunications learnings and innovation to help, serving as a technical advisor on USAID's Act to End Neglected Tropical Diseases | East program.
In 2016, USAID supported Haiti to develop a program to collect and transfer LF data more quickly using electronic data collection. Community drug distributors were equipped with cell phones that allowed them to call in their data, which was immediately loaded into a national database. Public health specialists analyzed and responded to the data every day instead of waiting months.
The use of electronic data collection helped identify areas for improvement as Haiti raised the coverage for mass drug administration (MDA) efforts from 37% to 70% within four years. As the system evolved, more variables were added, and the technology improved. Rather than testing different data transfer options to handwriting and sending data on a long paper trail to Port-au-Prince, community drug distributor teams track data on smart phones and tablets, sending real time data to analysts.
Alain and a panel of experts shared their findings on Monday, October 31 on the benefits of electronic data collection to improve information and decision making for disease elimination and eradication programs at TropMed22.
Mark is a Senior Communications Specialist for the USAID Act to End NTDs | East program.