ASTMH Annual Meeting 2022
blog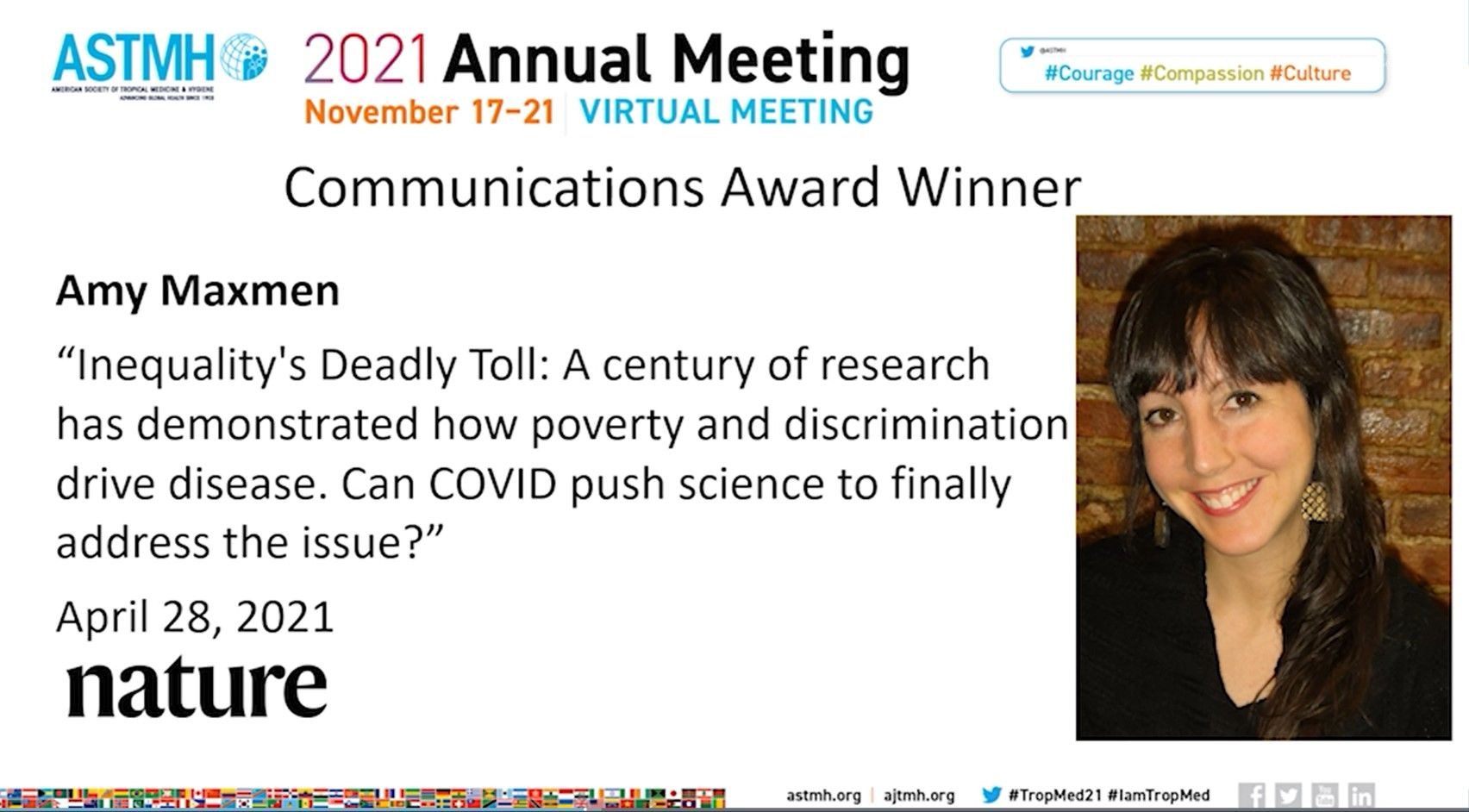 Amy Maxmen, an award-winning science writer who covers the entanglements of evolution, medicine, science policy and of the people behind research, has garnered another win. Her story in Nature, Inequality's Deadly Toll: A century of research has demonstrated how poverty and discrimination drive disease. Can COVID push science to finally address the issue?, has won the ASTMH 2021 Communications Award.

Amy spent eight months investigating the coronavirus response in California's San Joaquin Valley, where hundreds of thousands of agriculture workers reside. She described in relatable terms and with personal stories how exploitation, poverty and discrimination drove COVID-19. She furthermore explored why scientists have not truly addressed the social determinants of health, despite studying them for 150 years. She mentioned: "Government researchers have identified the social determinants of health during the pandemic, but they're typically treated as immutable factors."
She described COVID's unequal toll: "Black and Latinx people and Indigenous Americans are roughly three times as likely to be hospitalized and twice as likely to die from COVID-19 as are white, non-Hispanic people in the United States." Furthermore, she said, "The pandemic has the potential to widen economic inequality. Low-wage workers experienced some of the heaviest job losses in 2020, whereas higher-wage workers gained nearly one million jobs." Hence, she insisted that researchers need to take a more active role in addressing inequalities by partnering with community organizations, which have been at the forefront of efforts to address the root causes of health disparities in the United States.
This is the second time in a row that Amy is awarded the ASTMH communications award. In 2020, she was awarded for her piece in Nature, Exclusive: Behind the front lines of the Ebola wars, which described how the World Health Organization is battling bullets, politics and a deadly virus in the Democratic Republic of the Congo. The Communications Award, sponsored by SC Johnson, recognizes excellence in tropical medicine storytelling through the written word.
Written by Sara Canavati, Senior Malaria Advisor at Save the Children.