ASTMH Annual Meeting 2023
blog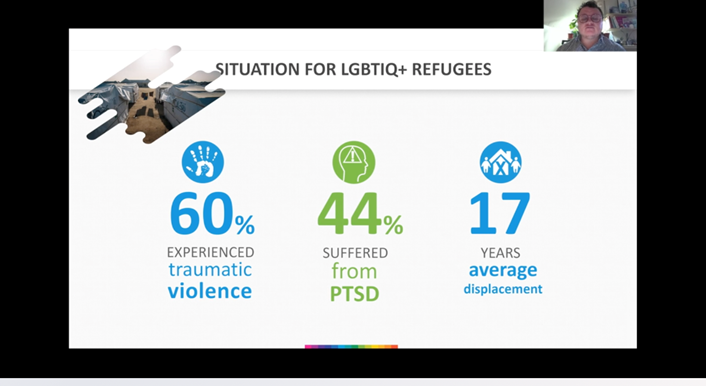 Identifying as lesbian, gay, bisexual, transgender, intersex, or queer (LGBTIQ+) can have profound health consequences that deserve much greater attention, such as focusing on unique risks within refugee populations, providing alternatives to oral HIV prevention medications, and devoting attention to how legal systems intensify health disparities for people who don't identify as heterosexual.
Elevating these and other unique health challenges within the broader global health agenda was the focus of a symposium Friday at #TropMed21 that examined the difficult path to health equity for members of LGBTIQ communities around the world.
Gabriel Schirvar, an LGBTIQ training specialist at the International Organization for Migration, said it must be emphasized that an LGBTIQ orientation is not, by itself, a health risk. Rather it's the unique "social factors"—the forced concealment, discrimination, persecution, isolation and ostracization from family and community support structures—experienced by LGBTIQ communities that produce a plethora of health problems.
Schirvar said it is especially important to be aware of these risks when providing health services to the rapidly rising populations of refugees and displaced persons around the world. Schirvar said that already living at the margins of society before an emergency occurs greatly compounds the negative impacts of being a refugee. They noted data showing that 60% of LGBTIQ refugees report experiencing violence and 44% have suffered from PTSD.
But the quandary today, they said, is that LGBTIQ organizations generally are not prepared to provide refugee services, and groups providing refugee health services often don't understand the unique health burdens of LGBTIQ refugees.
Schirvar said one issue is that LGBTIQ displaced persons are coming from low- and middle-income countries where there is a lack of research focused on health burdens in these communities.
Tonia Poteat, PhD, PA-C, MPH, with the Center for Health Equity Research at the University of North Carolina, presented evidence of how such research can lead to more effective interventions. She discussed work among transgender women in Johannesburg, South Africa, to find alternatives to providing pre-exposure prophylaxis or PrEP for reducing risk of HIV infection—options that don't involve taking a pill every day. That includes providing PreP as a long-acting injection or as a gel that could be applied before having sex.
Dr. Poteat said the research revealed that some of the women preferred the gel, others the injections, and some were content with the daily pills. But the important point, she said, is that health providers should understand that reducing HIV burden in this group requires offering a wider range of PrEP options. Dr. Poteat said the research also revealed that transgender women often avoid going to a health clinic because they believe they will not be treated with dignity and respect.
But Dr. Poteat said it was encouraging to see that 93% of the women involved in the study reported feeling like they were part of a supportive community of transgender women. One of the women recounted being in a WhatsApp group where they reminded one another to take their PrEP medication. The woman remarked that, "Once we talk in the group, we all have to respond….(or) we will call you personally (to say), 'Girl, it's time to take your pills'."
Eric Gitari, a human rights lawyer and researcher who has focused on the criminalization of homosexuality in Africa, said legal activism to address institutionalized discrimination can be one way to fight for health equity—but he was candid about the challenges involved.
He noted that there are a number of countries in Africa where homosexuality is criminalized via laws that can result in lengthy prison sentences merely for being gay. And those laws are in addition to a lack of protections from discrimination in areas like employment or receiving health-care. He said the last few years have involved both progress and setbacks.
Gitari himself was involved in litigating a case in his home country of Kenya seeking to stop a common practice of forcing men accused of homosexuality to undergo anal examinations and HIV tests. In 2018, a Court of Appeals in Mombasa ruled against the practice, but the ruling was subsequently reversed a year later. Gitari said this mix of wins and losses is a common fixture of the quest for LGBTIQ rights in Africa.
"There has been a growth of transnational social networks aiding justice," he said. "But as much as we are trying to build legal aid programs…there has been a counter movement migrating from the global north to the global south" encouraging criminalization.