ASTMH Annual Meeting 2023
blog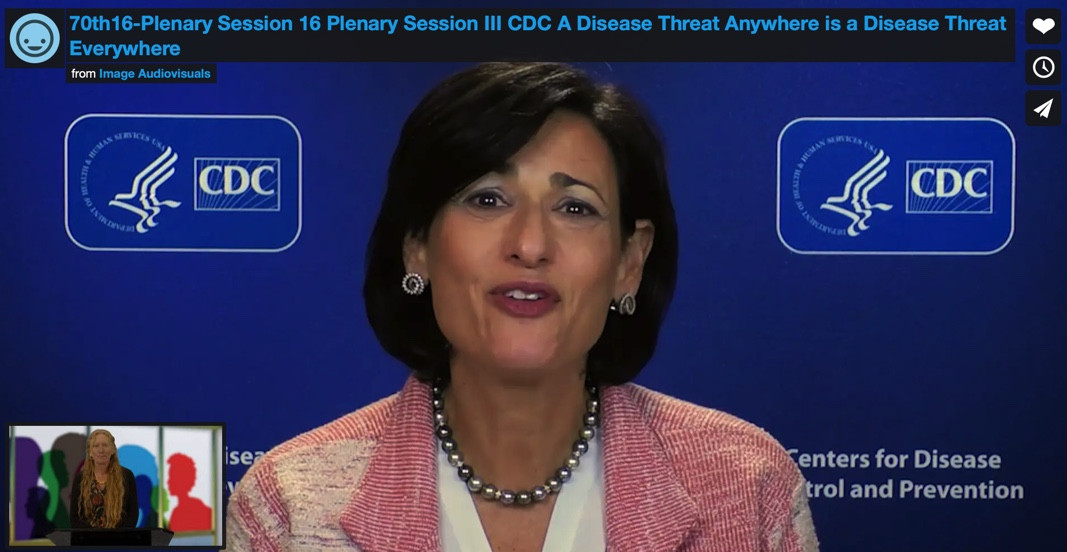 With vivid recollections of the moment the pandemic arrived on her infectious disease ward at Massachusetts General Hospital, Rochelle Walensky, MD, MPH, now the director of the CDC, vowed Thursday at #TropMed21 that her agency will stay on the offensive against multiple global health threats while it continues to focus on COVID-19.
"I will never forget the moment my pager went off—March 6, a Friday morning—alerting me to the first cases of COVID-19 in our hospital," said Dr. Walensky, who previously led Mass General's Division of Infectious Diseases. But she noted that "our work on COVID-19 cannot cause us to lose sight of the progress" that must continue all along the waterfront of neglected diseases.
Her address provided an illuminating update of the many interventions involving CDC over the last year against diseases other than COVID-19. For example:
Earlier this year, CDC investigators were confounded by four domestic cases and two deaths in Georgia, Kansas, Minnesota and Texas from a rare bacterial disease called melioidosis, also known as Whitmore's disease. It can cause everything from mild fevers to joint pain, respiratory distress and brain infections. She pointed to the investigation as a textbook case of CDC's commitment to "painstaking, time-consuming detective work." Frustrated by the lack of a clear source of patient infections, investigators returned to the home of the first victim to take additional samples from a bottle of aromatherapy spray—and then isolated the bacteria that was the source of the infections.
Dr. Walensky said CDC has maintained its focus on malaria. She noted CDC has supported efforts to distribute malaria bednets door-to-door in endemic African countries as an alternative to large distributions points. Dr. Walensky also said that funding from the American Rescue Plan legislation is supporting research into novel mosquito control strategies. She said that includes work with a bacteria called Wolbachia that may interfere with malaria transmission and further investigations into the potential of genetically modified mosquitoes to reduce the spread of malaria.
With yellow fever having recently re-emerged in urban states in Brazil, where it had not been seen for nearly a century, Dr. Walensky said CDC is intensifying its focus on yellow fever elimination. She said that includes support for timely detection in Africa and the Americas through better diagnostics.
For dengue, she said CDC's Advisory Committee on Immunization Practices (ACIP) acted in June to recommend the Dengvaxia vaccine for children with confirmed prior infections living in areas where they could experience new exposures. That includes children living in the U.S. territories of American Samoa, Puerto Rico and the U.S. Virgin Islands, and freely associated states, including the Federated States of Micronesia, the Republic of Marshall Islands and the Republic of Palau.
Dr. Walensky said CDC officials are closely monitoring a new outbreak of Ebola in the Democratic Republic of the Congo, where she said that as of November 10 there have been eight cases and six deaths. She said sequencing data indicate a potential link to a 2018 outbreak, raising questions about whether there is a connection with sexual transmission or relapse from previous cases. (See related TropMed21 abstract.) "We are committed to doing the hard work to ensure Ebola is contained even as we continue to fight COVID-19," Dr. Walensky said.
Dr. Walensky said she is also excited by the potential of CDC's new Center for Forecasting and Outbreak Analytics to deploy new tools and techniques to improve public health response. She said the growing ability to process large data sets has been on display during the COVID-19 pandemic, with CDC dealing with some 1 million lab records every day while it also has recorded 415 million unique immunization records and 800,000 genome sequences. That level of data, she said, has never been seen in the history of public health.
Dr. Walensky also called for a greater focus on anticipating and adapting to the health impacts of climate change as shifting weather patterns and disrupted ecosystems present new opportunities for diseases to move across animal populations and, in some instances, into humans. Climate change also brings new risks for food- and water-borne illness, she said, along with weather-related stress that can worsen chronic conditions like cardiovascular disease.
Dr. Walensky closed by calling on ASTMH members to continue looking for opportunities to collaborate with CDC on a number of public health interventions.
"We will not be successful without the sustained dedication and expertise of partners like you," she said. "Having known and interacted with many of you over many years, we at CDC remain optimistic for our success against the challenges that lie ahead."
More information about this session: CDC: A Disease Threat Anywhere is a Disease Threat Everywhere