ASTMH Annual Meeting 2023
blog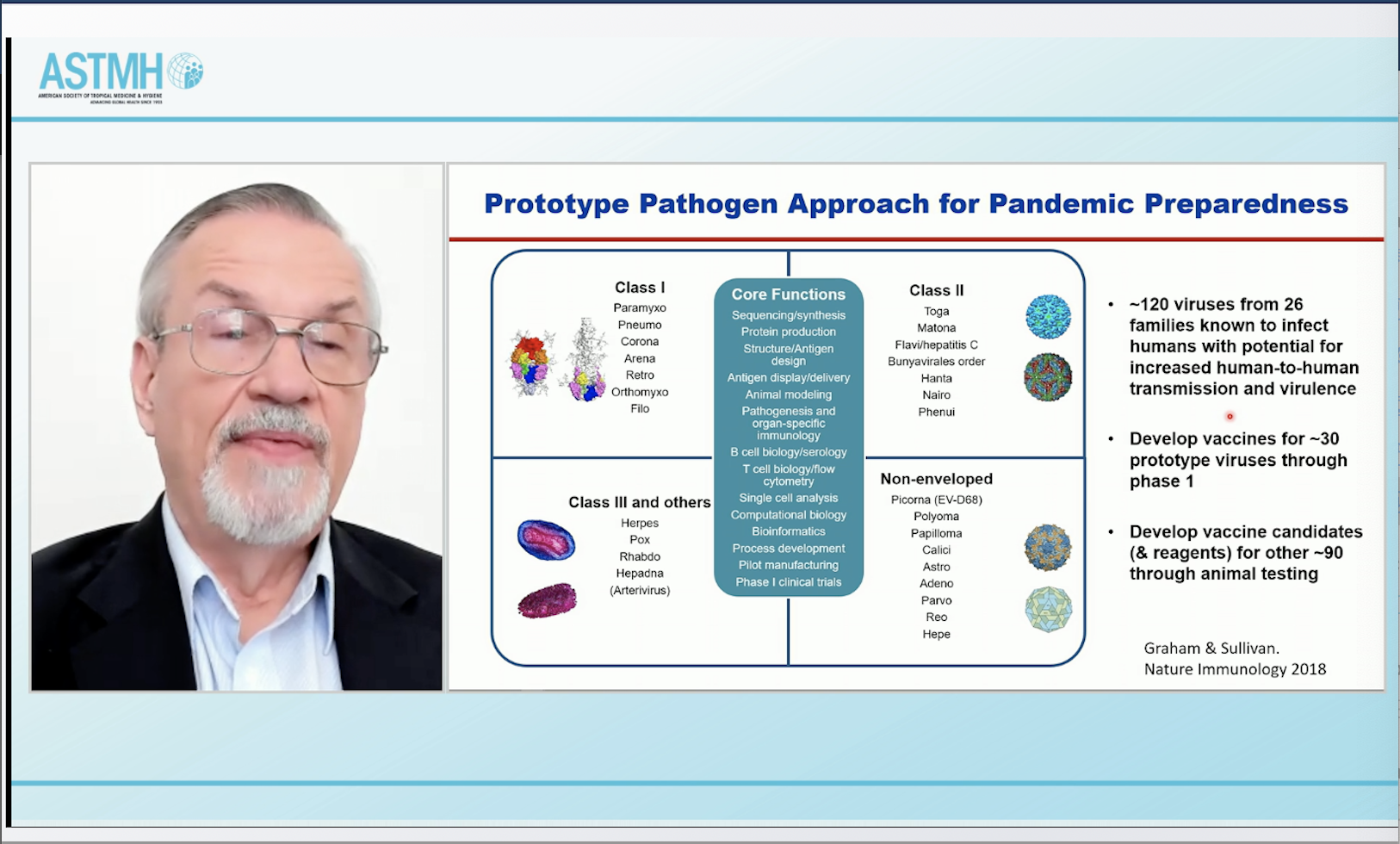 The strong base of science, engineering and manufacturing advances that propelled the incredibly rapid development of COVID-19 vaccines can be used to develop and advance vaccine prototypes for either phase one or animal testing for the majority of viruses of pandemic potential. That was among the many fascinating observations delivered Thursday at #TropMed21 from Barney Graham, MD, PhD, the former Deputy Director of the Vaccine Research Center at the National Institute of Allergy and Infectious Diseases (NIAID), whose team pioneered much of the work with viral proteins and mRNA technology behind the highly efficacious coronavirus vaccines.
He said that the advances that were applied to developing COVID-19 vaccines have "really changed the landscape" of vaccine development in two key ways: they have brought more precision to the design of "antigen" viral proteins that stimulate an immune response; and they have provided the ability to go faster with manufacturing.
"Those qualities correspond roughly with what you need for pandemic preparedness and pandemic response," he said.
Dr. Graham noted that of the roughly 120 viruses that pose a threat of outbreaks, it's possible to identify about 30 as particularly high risk and develop products through phase one (clinical trials) to have "something on the shelf or ready to launch in case one of these becomes a pandemic."
"For the other 90 or so viruses that have some level of potential for human-to-human spread, you could have those developed through the animal testing (stage)," he said.
Dr. Graham discussed how the development of mRNA vaccines to target COVID-19 got a big head start thanks to work that was under way five years ago to develop a similar vaccine against a different coronavirus, the one that causes the deadly Middle East Respiratory Syndrome (MERS). He said work on a MERS vaccine was an initial focus of a collaboration between the Vaccine Research Center and Moderna, allowing the partnership to quickly pivot to SARS-CoV2, the coronavirus that causes COVID-19.
He said researchers were long intrigued by the potential of mRNA technology to provide an appealing mix of potency and safety. There was evidence that mRNA was capable of stimulating a strong immune response even though the key components of the vaccine rapidly degraded in the body, lasting only a few hours, Dr. Graham said.
Many of the insights that accelerated the development of COVID-19 vaccines also are linked to efforts to develop a vaccine against respiratory syncytial virus (RSV) and to the original focus of the Vaccine Research Center, which was to develop HIV vaccine candidates, Dr. Graham said. Even though an HIV vaccine remains elusive, the work to develop one generated the technology and biological insights that have formed the basis of coronavirus vaccines, he said.
Given the many years of scientific research that set the stage for COVID-19 vaccines, he wants vaccine skeptics concerned about what they view as a rushed, one-year effort to understand that, in reality, it's a "multi-decade story," he said.
Asked whether he believes COVID-19 vaccines should be reformulated to address the Delta variant, Dr. Graham pointed to a potential problem with that approach: the original or "ancestral" form of the virus that is the basis for current vaccines does a better job than the Delta strain when it comes to providing protection against multiple variants. He said that the immune response generated by the Delta variant does not appear to reach other variants that have emerged during the pandemic as well as the original strain does. So vaccination with a Delta-based vaccine might not be as effective against new variants that may emerge.
Dr. Graham also said that administering a third vaccine dose several months after the initial round—which he called "late boosting"—could prove valuable for consolidating long-term protection against COVID-19. He is optimistic that for people who have received the three-dose regimen, the threat of SARS-CoV2 will recede to that of the four other endemic coronaviruses that cause common colds.
"I think this one late booster is going to be enough to put people in a position where they will have long-term immunity," he said.
More on this session: Fred L. Soper Lecture: Rapid COVID-19 Vaccine Development and the Future of Vaccinology