ASTMH Annual Meeting 2023
blog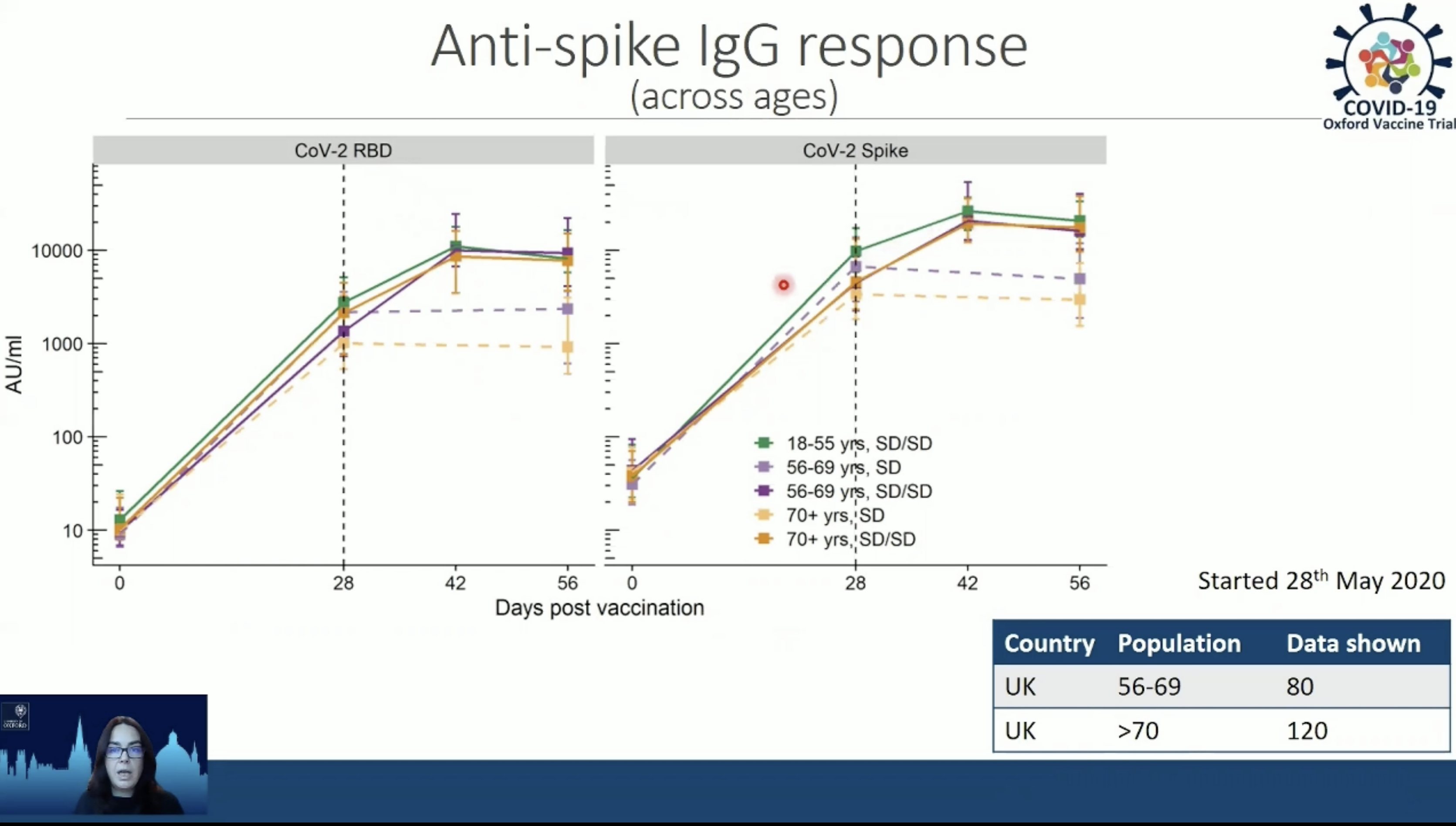 Photo:
Infectious Diseases & Global Health
11.19.20
The parade of good news about COVID-19 vaccines continued at #TropMed20 Wednesday with a researcher involved in the Oxford University/AstraZeneca vaccine offering additional insights regarding recent evidence from an early-stage trial showing a strong immune response in older adults—while noting that those over 70 actually experienced milder reactions than younger subjects.
"We get strong antibodies being produced after one dose but again (as with younger subjects) in these older adults we get antibodies that are augmented after two doses," said Teresa Lambe, a vaccine investigator with the Oxford's Jenner Institute who is closely involved with the AstraZeneca SARS-COV2 vaccine now in Phase 3 clinical trials.
COVID-19 vaccine development is progressing at record speed. Pfizer announced Wednesday it would seek emergency use authorization from the FDA "within days" for its mRNA vaccine, which it claims has achieved 95 percent efficacy. Moderna, which recently claimed similar efficacy for its mRNA vaccine, is expected to follow suit. But scientists are eager for additional data for all of the vaccines in late-stage trials, especially regarding their performance in older age groups at greatest risk of severe illness and death from COVID-19.
The antibody data Lambe presented at TropMed was derived from an analysis of results from a Phase 1/Phase 2 clinical trial. But she said the picture thus far is that in volunteers 56 to 69 years old and volunteers over 70, there is a "very good overlap (in antibody response) with what we see with individuals age 18-25." That response included production of antibodies to the virus's spike protein, which is viewed as essential for providing protection against COVID-19.
In addition, Lambe said the new analysis indicates that in the over 70 group, there were 30 percent fewer local reactions, like pain or swelling at the injection site, and 20 percent less systemic reactions, like fever, nausea or malaise, than were reported in volunteers under 55.
Lambe also noted that, if the Oxford/AstraZeneca vaccine is successful, it could be particularly well-suited for use in low-income countries. She said the design, which uses a chimpanzee adenovirus as a backbone into which developers have inserted a coding sequence for the COVID-19 spike protein, is ideal for generating a large number of doses per liter. Lambe also said the vaccine can be preserved in a way that allows transport without cold chain storage.
That would be a significant advantage compared to the Pfizer vaccine, which must be stored at minus-70 degrees Celsius. The Oxford/AstraZeneca vaccine is also less challenging than the Moderna vaccine, which requires minus-20 degree storage—less burdensome than the Pfizer formulation, but still potentially a problem for distribution in low-resource settings.
More Information: https://www.abstractsonline.com/pp8/#!/9181/session/333