ASTMH Annual Meeting 2023
blog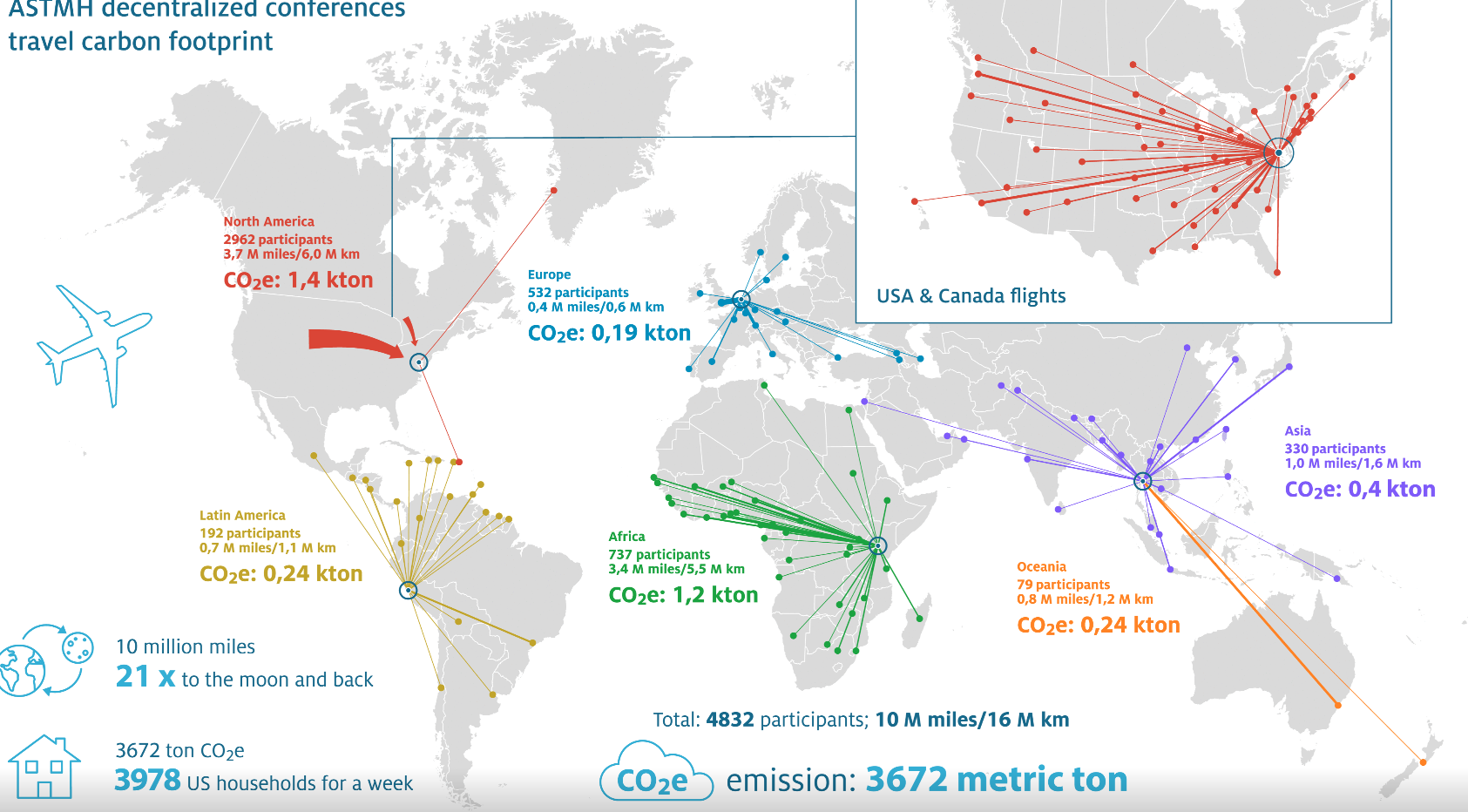 Photo: Photo Credit: https://www.ajtmh.org/content/journals/10.4269/ajtmh.20-1013
11.18.20
Here's one silver lining to TropMed20 not being held in-person this year - this year, the carbon footprint of ASTMH is virtually (!) zero. This is a huge improvement from last year, when the conference contributed emissions equivalent to 58 round-trips to the moon. But we are mindful that we will have in-person meetings again, and that the sustainability and environmental footprint of our organization exceeds the burden of travel to annual meetings.
Climate change affects all of our work, in some way or another, because it affects the diseases and conditions we study. These connections are nonlinear, complex, and increasingly concerning. As a Society, we contribute to climate change in myriad ways, from conference travel, to the research supplies used in our labs and fields, to the ways that we go about living our lives. If we fail to advocate broadly for climate change policy, we also contribute to the problem systematically.
Meanwhile, we know that Americans, on average, contribute disproportionately to a crisis that more directly impacts many of those outside the United States. And we recognize that climate change may be a secondary priority for some in our fight to eradicate disease and alleviate other pressing global health issues.
As a Society, we are committed to more carefully integrating sustainability into our mission over the next year. With our theme for the 2020 annual meeting being Planetary Health, we have had many productive discussions about the impacts of climate change on health. We will move forward with what we are learning in hand and work hard to do more. We thank everyone who has contributed thus far to this effort.
Watch out for the call for interest from our working group soon. In the meantime, reach out to us if you have thoughts or feel like joining our cause!
Green Working Group
Hanna Ehrlich, hanna.ehrlich@yale.edu
Katherine Taylor, ktaylo12@nd.edu
Desiree LaBeaud, dlabeaud@stanford.edu
The Green Group is a working committee dedicated to advancing environmental sustainability within ASTMH.