ASTMH Annual Meeting 2023
blog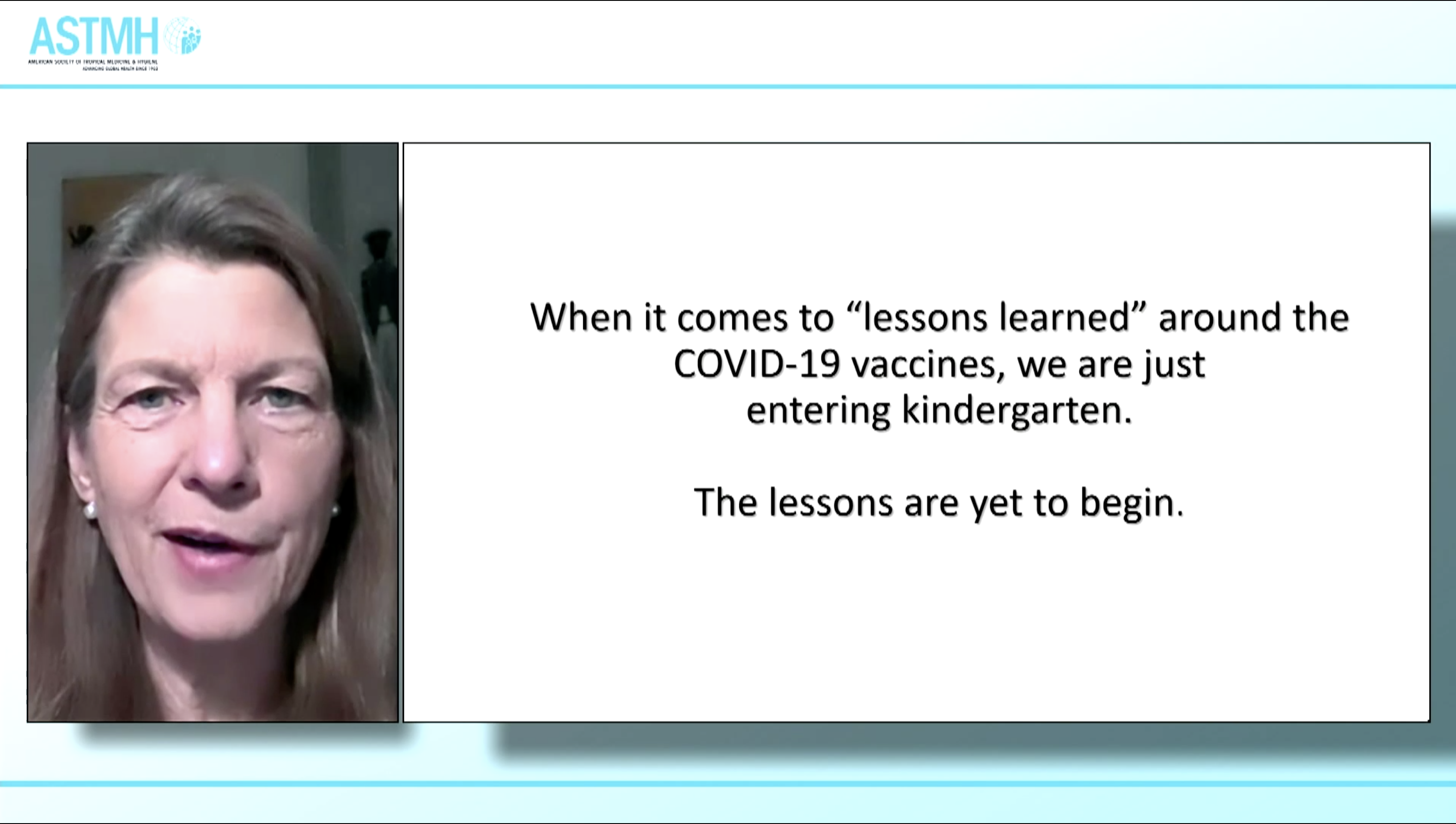 Photo:
Global Health & Infectious Diseases
11.16.20
Just hours after blockbuster news that Moderna's COVID-19 vaccine candidate is 94.5 percent effective, Heidi Larson, an expert in vaccine hesitancy, cautioned willingness to use it and other COVID vaccines may be falling in some regions even as infections surge. And she warned of a worrisome convergence of long-time anti-vaxxer groups with people opposing various COVID-19 policies and restrictions.
Speaking at a high-level panel at TropMed20, Larson, MD, PhD, director of the Vaccine Confidence Project at the London School of Hygiene & Tropical Medicine, pointed to recent surveys that showed COVID-19 vaccine skepticism has been rising in the United States (US) and the United Kingdom (UK) in recent months. She said the reluctance in the US—which she believes could turn more positive in response to news of a highly effective vaccine—has been increasing in all segments irrespective of gender, ethnicity, age or education.
"There is a kind of fatigue going on," she said. "We need to be conscious of the landscape."
Larson also said that prior to COVID-19, groups ardently opposed to vaccination tended to "stay in their circle." But now she is seeing signs of a convergence with "anti-lockdown and anti-mask" groups that have emerged to oppose COVID-19 public health measures.
"It's a very different environment from anything seen in the vaccine space ever," she said, describing the overall situation as one of "hyper-uncertainty."
Larson was speaking on a panel that included Dr. Anthony Fauci, head of the National Institute of Allergy and Infectious Diseases (NIAID), John Nkengasong, PhD, Director of the Africa Centers for Disease Control and Prevention, and Richard Hatchett, MD, Chief Executive Officer of the Coalition for Epidemic Preparedness Innovations (CEPI).
Nkengasong described a situation in sub-Saharan Africa where rapid mobilization to deliver testing capacity across the continent along with other interventions have helped countries keep the pandemic under control. But he cautioned that in recent weeks there have been signs the "pandemic is beginning to gain momentum." Nkengasong is especially concerned that upcoming elections in several countries could generate a significant increase in large gatherings that will accelerate this trend.
"Numbers should not deceive anyone that COVID-19 is not an issue on the continent," he said. "Our data is saying we are not out of the woods yet."
In his remarks, the NIAID's Fauci offered a grim recitation of the trajectory of the pandemic that resulted in the US being "hit the hardest of any other country" in the world. While he was hopeful about the rapid progress of COVID-19 vaccines—predicting vaccination of high-priority groups will start by the end of the year—he was dismayed that a few simple steps could have avoided much suffering, including the surge of infections in recent weeks. Specifically, he pointed to wearing masks, maintaining physical distance, avoiding crowds, conducting activities outdoors, and frequently washing hands.
"If those five public health measures were adhered to universally and consistently across the country, it is clear…we would not be having the surging of cases we are currently seeing," he said.
Meanwhile, CEPI's Hatchett struck a hopeful note regarding the news of vaccine efficacy. He said the "remarkable announcement" from Moderna on the heels of similarly strong preliminary data from Pfizer have made for a "very good week" in the battle to subdue the pandemic.
Hatchett was especially optimistic that soon after his administration assumes power, President-elect Joe Biden will bring the US into a global compact called COVAX that is working to ensure equitable distribution of COVID-19 vaccines in low-income countries.
"I would be very confident that there will be (US) support for COVAX," he said.