ASTMH Annual Meeting 2023
blog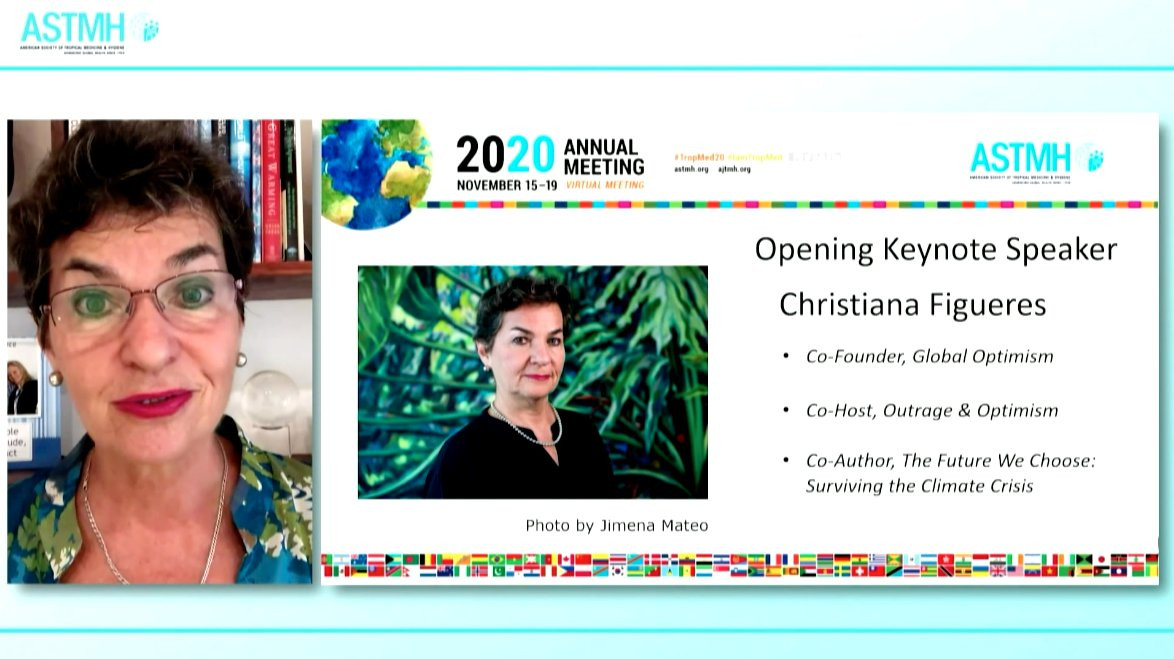 Photo:
Disease Outbreaks, Global Health & Infectious Diseases
11.15.20
"You have a powerful voice. You always did. But COVID-19 has given you a megaphone."
Infectious disease researchers and public health professionals must speak up and speak out to influence the global allocation of trillions of dollars in COVID-19 recovery funds that will determine human health and planetary health for years to come, said Christiana Figueres, the United Nations former chief climate negotiator, in a keynote speech Sunday kicking off TropMed2020.
"You have a powerful voice; you always did. But COVID-19 has given you a megaphone," said the former Executive Secretary of the UN Framework Convention on Climate Change (UNFCC). "People trust you. You can make a huge difference in public awareness and in policy decisions."
Figueres, who played a decisive role in delivering the historic 2015 Paris Agreement on climate change, said a surge of investments globally to fuel a rapid pandemic recovery—which she estimated already total $12 trillion US and could soon reach $20 trillion—must be guided by their potential impact on public health.
She said it's time for health experts to do even more than conduct "research for cures and consult and treat patients." She believes they must also assert themselves into political processes that could either produce a "dystopian" future or launch "the most exciting period in human history." Figueres pointed to a letter in May to members of the G20 signed by organizations representing 40 million health professionals demanding that senior medical and science officials be included in "the design of all stimulus packages."
Figueres said health and science experts have earned a seat at the table. She said that there is much talk about how they are on the "front lines of the battle against COVID-19." But she said that from another perspective, they are also "mopping up the mess caused by uninformed political and financial decisions" made with little or no consideration of their dire consequences for human health.
Figueres said she is especially concerned that COVID-19 recovery investments will perpetuate dependence on fossil fuels. In addition to being a primary source of greenhouse gas emissions, Figueres noted that every year, air pollution from burning fossil fuels causes 7 million premature deaths. She called this a "silent pandemic" linked to one third of deaths from stroke, lung cancer and heart disease—along with severe development problems in children "who have the bad habit of wanting to breathe."
She pointed out that in the world's tropical regions, most people are exposed to harmful air particulates that are 2.5 times greater than limits proposed by the WHO. She recounted stories from New Delhi surgeon Dr. Arvind Kumar of encountering black lungs in children "who have never smoked a cigarette."
Figueres also said there must be strong policies guiding the COVID-19 recovery process to prevent economic activities that lead to deforestation and encroachment into natural habitats, as they are responsible for a surge in outbreaks of zoonotic diseases.
Meanwhile, she noted that climate change is steadily becoming manifest as "human diseases" along with "broken livelihoods, scorched and drenched farmlands, and forced migration" that will be playing out for far longer than COVID-19.
With so much at stake, Figueres said the world needs the same people taking the lead in the pandemic fight to ensure the recovery produces a healthier, more hopeful future. She described it as one of those situations in life where those "who do a good job are called on to do an even better job."
"Only by injecting health—human health and planetary health—into the economic decisions that are being made this year and the beginning of next year," she said, "only then will we be able to chart a course to a much better world."