ASTMH Annual Meeting 2022
blog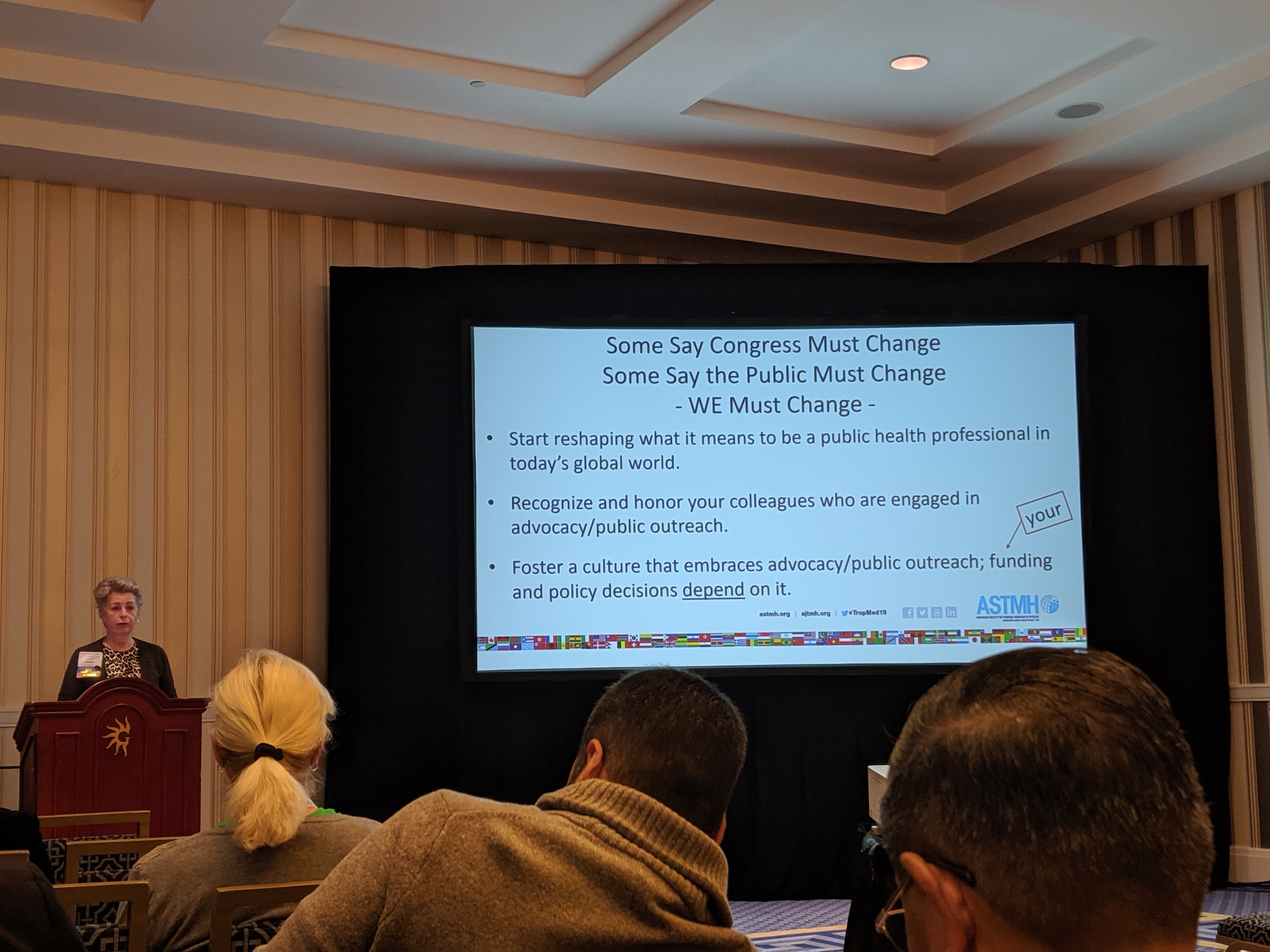 Photo:
Public Health
11.23.19
Only 20% of Americans can name a living scientist.
This startling fact, revealed by public polling data from Research!America, helped frame the discussion of Friday morning's session, "Intersection of Advocacy, Policy and Social Media: A Washington, DC, Primer."
As science, medical and public health professionals, many of us rely heavily on taxpayer dollars to fund our work. However, both the public and members of Congress are often confused when it comes to science. The problem, as ASTMH CEO Karen Goraleski points out, is us. Not enough researchers engage with the public. And when we do, we often use what she refers to as "science speak"—terminology that is not understood by anyone else but us. This failure to connect with the public has led to a vacuum that allowed the rise of antiscience sentiments such as vaccine skepticism and climate change denial.
So how can we change this? The good news is, the public wants to hear from us. Again according to a Research!America survey, 86% of Americans believe it is important for scientists to inform the public about their research. If we are willing to learn, and practice, good communication skills, people will listen. Karen highlighted the importance of being direct and to the point, using plain, understandable language, and having clear examples. She also explained that having personal, human stories about why we do the work that we do will resonate with people much more than graphs or statistics. Tying your work into current movies, shows, public figures, or news stories can also be a way to connect with your audience. Finally, she noted that the scientific community must begin to place more value on outreach and advocacy, and support people who are engaged in such efforts.
In addition to Karen's inspiring call for action, Jodie Curtis of the District Policy Group provided helpful advice on advocating for Congressional support, and would like you to know that lobbying isn't a four-letter word. Gideon Hertz from Burness talked about the effective use of social media, particularly Twitter, for communication and advocacy, discussing how to get started with the platform, as well as best practices.
Chandy John also spoke about his experiences in advocacy on Capitol Hill as current president of ASTMH. He encouraged the audience to start thinking about the end goal of research beyond publications and journal citation numbers. This end goal could be a public health or policy impact, or it could be around training the next generation of scientists, or changing the field. Noting that it can be difficult for scientists to spend the time and energy on this, he admitted that he has nevertheless become a "true convert" to the importance of science advocacy and science communication.
So, if you are a scientist, please consider standing up and lending your voice. Because if you don't speak for your science, who will?