ASTMH Annual Meeting 2022
blog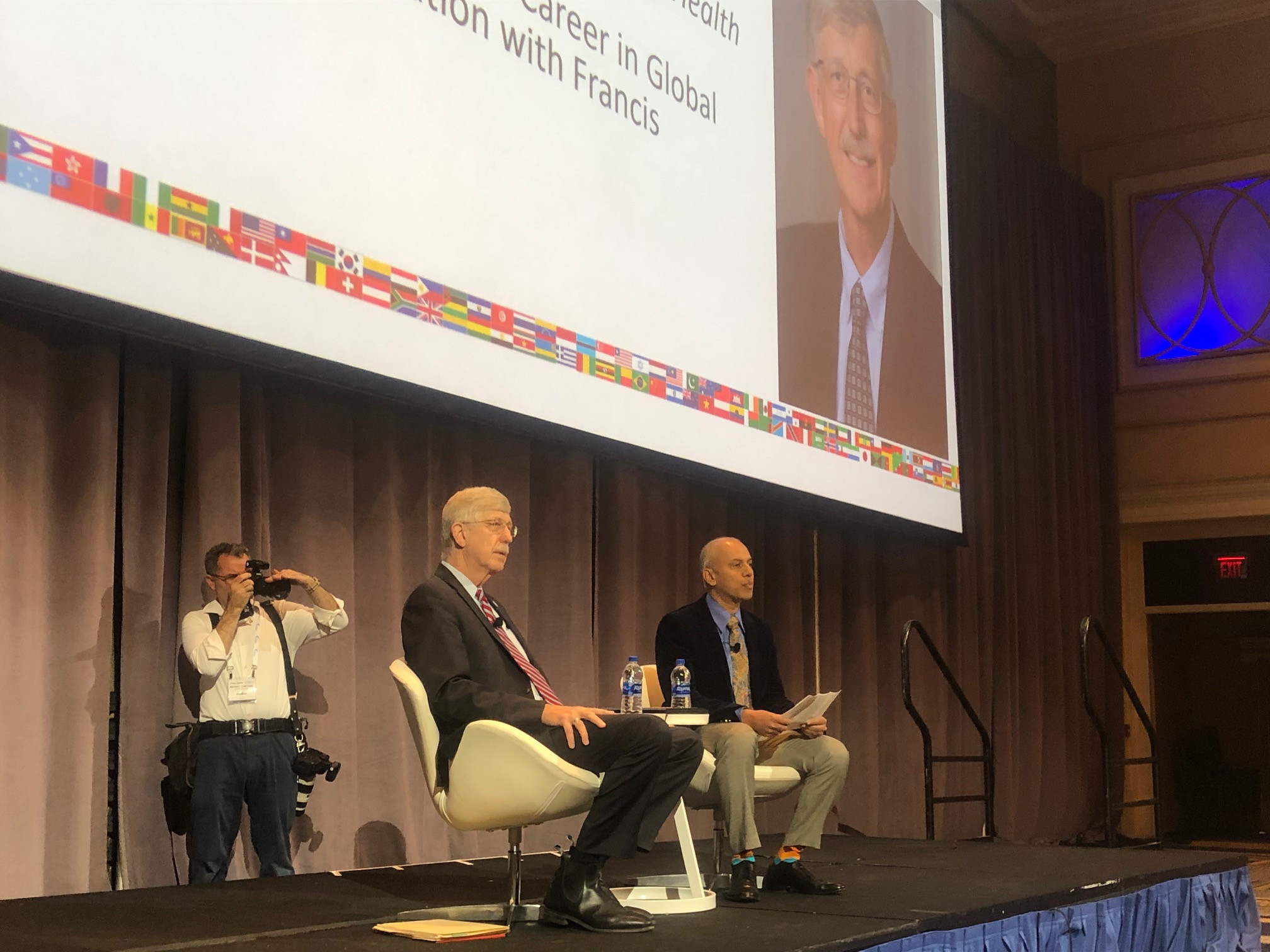 Photo:
Global Health & Public Health
11.22.19
By Matthew Davis
Matthew Davis, science writer from Burness, is covering the 2019 Annual Meeting.
New trainees entering the world of biomedical research and global health should have big dreams and ambitious plans, but however it plays out, always remember that the work ultimately comes down to making life better for one person at a time.
That was a key message from NIH Director Francis Collins, MD, PhD, whose conversation Friday at TropMed with ASTMH President Chandy C. John, MD, FASTMH, before an audience of early-career trainees involved an often moving mix of the insightful and inspirational.
A poignant moment came as Collins offered an emotional recollection of an encounter with a patient at a hospital in Nigeria decades ago that continues to provide a firm grounding for one of the world's most accomplished and influential biomedical researchers.
Collins told the story of performing a difficult procedure on a 27-year-old Nigerian man who he was treating for complications stemming from tuberculosis. Collins had traveled with his daughter, who was then a medical student, to spend time with her working in Nigeria. And the day after the procedure—which involved draining a dangerous build-up of fluid around the man's heart—Collins went to visit the patient, who had improved considerably.
"I get the feeling you're new here," the patient told Collins.
"Then he said, 'I also get the feeling you are wondering why you came," Collins recalled. "And he said, 'I have an answer for you. You came here for one reason. You came here for me.' "
Struggling to keep his composure, Collins admitted to the audience, "That little sentence still causes me to tear up."
Collins confessed that while in the country, he was entertaining grandiose notions of helping to steer a massive turn-around of the Nigerian health care system. But what the patient was telling him was that his job was about working with one person at a time.
"That's a lesson I carry with me in everything I do with global health," Collins said. "Yes, have the big dreams. And as NIH director I get to do a lot of that. But also remember that the way they play out is one person at a time. And if you forget that, you really have lost the whole thread."
The wide-ranging conversation with Collins touched on a number of issues and highlights from his career, which has included leading the groundbreaking effort to sequence the human genome and then serving as NIH director for the last 10 years—the longest anyone has held the position. A few other key insights from the session:
Noting that his plan as a college student did not include biology, he advised people early in their career not to be overly concerned with having their future all figured out. "If there are people here a little worried about having not mapped out their entire life course, don't worry. Doors open, doors close, new ideas will come to you. Don't be afraid to chase after them."
He said he continues to wrestle with ways to address the thinning ranks of physician-scientists, as physicians who want to pursue research find it increasingly difficult to balance that work with the demand to see patients. "A lot of MDs don't feel like it's a possible pathway because of all the things that are working against them," he said. "How do we make training programs so they are not so long that you are 42 years old by the time you are a physician-scientist? How do we make sure we have competitive grant programs that are encouraging instead of discouraging? All of that is high on the agenda (at NIH). So if there are physician-scientists here, the NIH is interested in seeing you succeed."
Collins is trying to take a more visible role in encouraging diversity and inclusion, especially when it comes to bringing more women into leadership positions. He said some of the issues involve a culture dominated by men who may not be deliberately discriminating, but still end up re-enforcing that imbalance by drawing from their "old boy network" when it comes to picking people for prominent positions. He encouraged students interested in promoting more diversity and inclusion to"find advocates who seem to have the ear of decision-makers and work to develop a network of like minds.
Collins, who has tried to build a bridge between the worlds of science and religious faith, talked about his journey from atheism to Christianity that began in medical school encounters with patients facing death. He noted that today, so much of the conversation on both sides seems to be "pushing at the poles." But he said that a website he helped launch, biologos.org, has shown that are a lot of people who want to have a civil conversation about science and faith.

Noting the large number of participants at TropMed from low- and middle-income countries (LMICs), Collins talked about the importance of funding that puts researchers from those countries in a leadership role. "As long as I have a chance, when we are funding research projects in LMICs, I want the (principal) investigators to be people in those countries," he said. "It will give us a chance to (limit) the brain drain, it will help encourage the strengthening of their institutions, and they will have more of a role in deciding, 'What are the research projects we need to do for us, and not for someone on the outside.'"