ASTMH Annual Meeting 2023
blog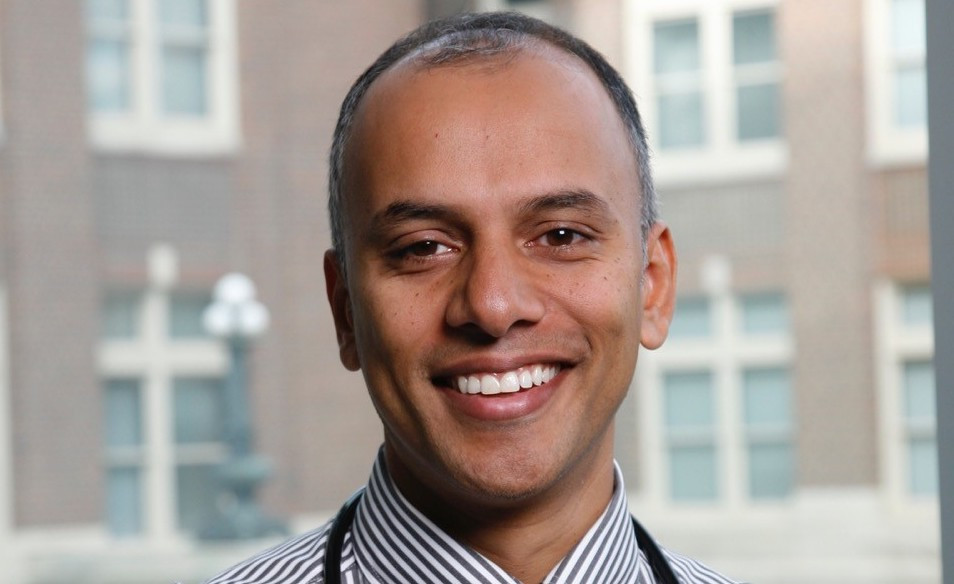 Photo:
Global Health, Infectious Diseases & Public Health
11.02.18
On October 31, Chandy C. John, MD, MS, officially assumed the position of ASTMH President. He sat down for a brief conversation with science writer Matthew Davis to discuss his journey to the world of tropical medicine and what he hopes to accomplish during his presidency.
Tell me about how you arrived at this point in your career. What inspired you to enter the world of infectious diseases and tropical medicine?
My parents are from India and they are both doctors. They worked at a mission hospital in India when we were kids. They have always had very service-oriented personalities. I learned from them to make sure that people who have the least in society still receive care.
Also, because they are doctors, I was able to see very concretely how they took care of the underserved through the practice of medicine. That inspired me. And having spent time in both India and the U.S., I was able see that there was this big underserved population in India and other low-income countries. And that made me think of working in global health and tropical medicine.
What is the focus of your research today and what still gets you excited about tropical medicine?
I do research in malaria. One area I work in is why children get severe malaria, and why they get complications from severe malaria like impaired neurodevelopment, which does not allow them to live to their full potential. I want to know how we can prevent them from getting severe malaria and how we can prevent complications from severe malaria.
I also am working on how malaria transmission affects immunity. We have some studies in Kenya investigating what happens to immunity when malaria transmission goes down to very low levels. We need to understand more about this because we may want to implement malaria vaccines one day that have been studied in areas where there is very high transmission, but may not produce the same results in populations where there is very low transmission.
What drew you to a position of leadership within ASTMH?
I came to ASTMH through my mentor Jim Kazura (former ASTMH President James W. Kazura, MD, FASTMH). He is a long-time member and advocate for the Society. Also, while my research is focused on malaria, my training was as a pediatric clinician working in infectious diseases. I care about all infectious diseases and am well aware of the problems caused by filariasis, schistosomiasis, arboviruses, and a host of other tropical infections. ASTMH covers all of these areas.
I got involved in leadership because the Society gives its members a lot. You benefit so much from the sessions at the Annual Meeting, from the networking, from the collaboration with other people, and from the education. I think we are all obligated to give a little back, and service to the Society is one way to do that.
What do you hope to accomplish in your year as President of the Society?
During my year as I president I am going to focus on four things:
First, I want to increase the involvement of international members, particularly those from low and middle-income countries.
Second, I want to increase engagement and retention of our trainee members. We are getting better at recruitment, but a lot of those trainees don't remain as full members. We want to keep them on board because they are the lifeblood of the Society.
Third is sub-specialty board certification in global health and tropical medicine. It's a movement that's gaining steam and I think the time has come. We need to have standards. You can't just say, 'Oh I do global health.' You need to be held to a certain standard so that the best quality of care is provided. There is also a big demand from our trainees. They want to be certified.
The last thing is that all of these things require more resources. We need to seek out donations from Society members and from our sponsors.
Funding for research continues to be a challenge. What should the Society be doing to make its case about the importance of its members' work?
Every year, a new infectious disease crisis comes along. It might be something new that we have not dealt with, like Zika virus, or something we know about that is now causing an outbreak, like measles, Ebola or highly drug-resistant bacteria. When these situations arise, ASTMH has been effective at helping our government leaders and other decision-makers understand the profound impact this has on people's lives and why our work is really important, but we need to do this more and we need to do it better. Our members have been on the frontline in researching and combating these diseases, and we need to showcase how the work we've done has saved lives and improved health.