ASTMH Annual Meeting 2023
blog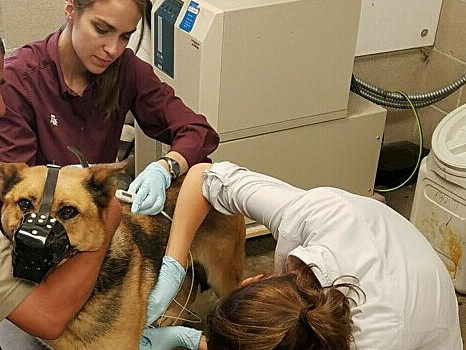 Photo: Photo Credit: Italo Zecca, PhD student
Disease Outbreaks, Public Health & Infectious Diseases
10.31.18
They are some of the hardest working dogs in the United States, trained to sniff out explosives at airports, track down contraband for U.S. Customs, and patrol our borders. But new research presented at TropMed18 today shows that more than 100 working dogs employed by the federal government's Department of Homeland Security across the country have been infected with the parasite Trypanosoma cruzi (transmitted by "kissing bugs") and have evidence of heart problems as a result.
"We were surprised to find that so many dogs, including those working outside of the kissing bug range, had been exposed to the parasite T. cruzi, and were exhibiting heart abnormalities associated with the disease," said Alyssa Meyers, a PhD candidate at Texas A&M University who presented the findings. "We were not expecting infection in dogs that spend most of their time working along the border with Canada or in airports in Nebraska."
The study was based on blood samples collected from 1,660 DHS dogs working in 43 states. (press release here)
Infection with T. cruzi leads to Chagas disease in both dogs and humans, but no treatments are available for dogs. While there have been documented cases of locally-acquired cases of Chagas infections in some southern states, it now appears to be making tentative incursions into other parts of the country. Kissing bugs are now found in 27 states and as far north as Delaware, and a growing number of those bugs are known to be carrying the T. cruzi parasite.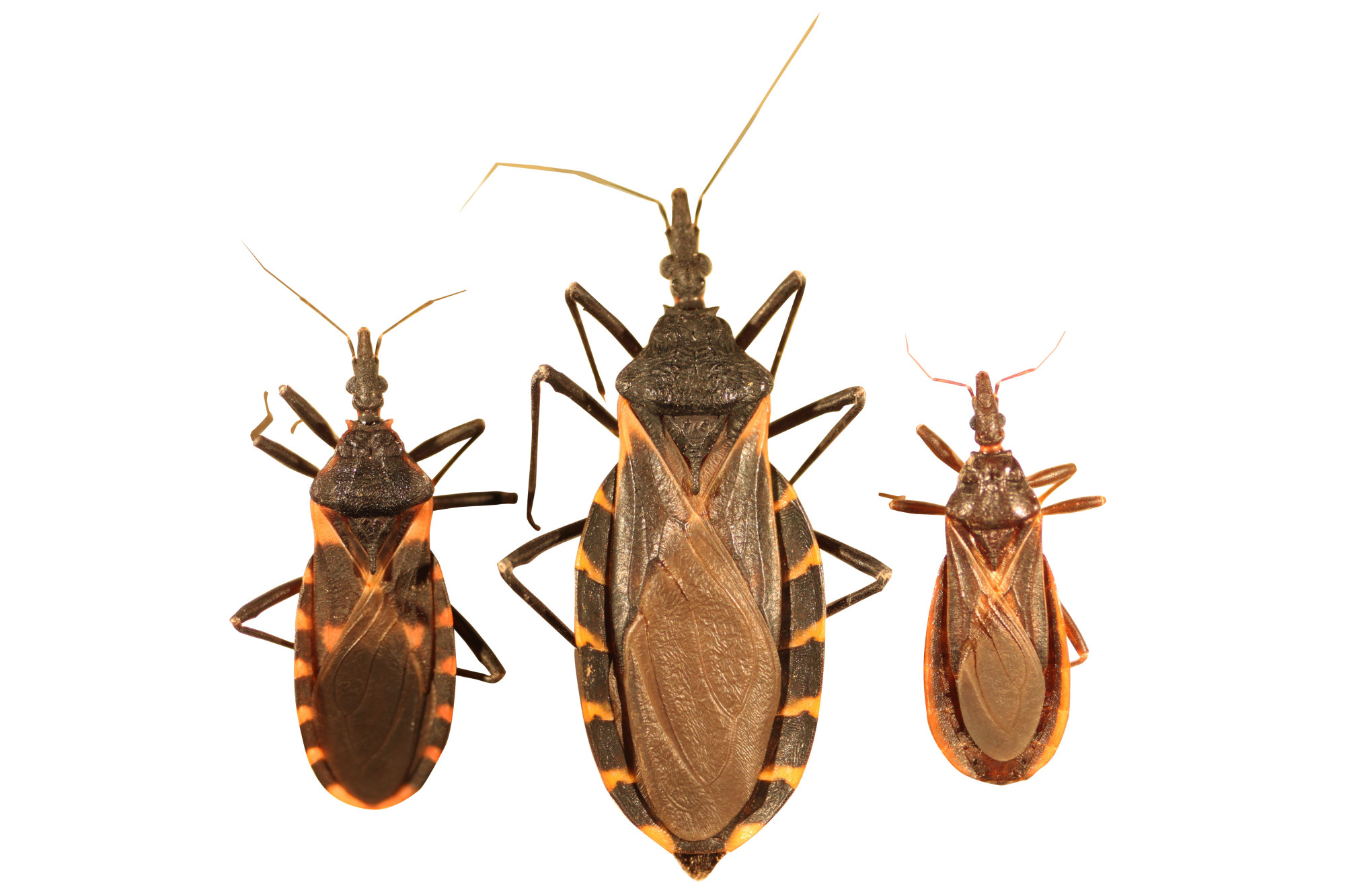 Photo Credit: Dr. Gabriel Hamer, Dept. Entomology, TAMU
The T. cruzi parasite is transmitted through the feces of kissing bugs, so called due to their tendency to feed around the mouth. Infections in humans or dogs initially can produce a fever and fatigue. But even infections that produce no symptoms can lead to an enlarged heart or abnormal heart rhythms that can cause sudden death.
"Not all dogs that are exposed to the parasite develop cardiac disease. Many can live a happy, healthy life," Meyers said. "We are trying to understand why some dogs remain asymptomatic, while others develop Chagas cardiomyopathy. These dogs play a critical role in our country's security, and we want to make sure we are doing everything we can do to keep them healthy."
Heart monitors for dogs
To learn more about the effect of Chagas on the DHS dogs, a subset of the infected dogs were outfitted with wearable electrocardiogram or ECG monitors that allowed researchers to obtain 24 hours of data on cardiac performance. "We just pulled the dogs aside for a few minutes to put on the monitors and then they went right back to work," Meyers said.
The monitors revealed that over two-thirds of the infected dogs were showing early signs of cardiac problems associated with Chagas.
The dogs are now being monitored for any signs of progression of cardiac problems. And, a follow-up study is planned to explore interventions that can help the DHS dogs avoid exposure to kissing bugs. The researchers also are collecting additional cardiac data from the dogs in an effort to better determine whether the abnormalities detected pose an immediate risk.